Bogota taxi drivers protest against Uber
Comments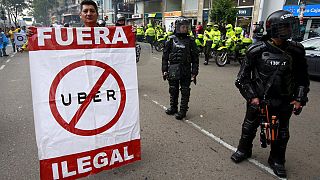 Riot police moved in as tensions boiled over during a march by thousands of taxi drivers in the Colombian capital Bogota.
More than a dozen people were arrested during the protest directed against the ride-sharing app Uber. Drivers say Uber has an unfair competitive advantage being exempt from the high fees taxis pay.
According to media, four police officers were injured.
Uber is banned outright in most of Western Europe. In Australia, Uber is popular but mostly illegal, with several big court challenges looming.
That's on top of the challenge to its business model that Uber faces in its home state of California, where a class action lawsuit could forces the company to treat its contract drivers as employees.
But despite setbacks, Uber has moved quickly in its global expansion and it is now in some 60 countries after being founded in 2009.