Assad regime accused of trying to disrupt new Syria peace talks
Comments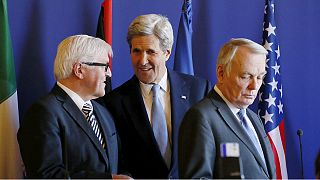 On the eve of a new round of peace talks, the US has warned the Assad regime and its allies against testing the boundaries of Syria's fragile truce or disrupting the negotiations.
Meeting fellow top diplomats in Paris on Sunday, John Kerry slammed Syrian Foreign Minister Walid al-Moualem's latest remarks in which he rejected any transition in power and called President Assad a "red line".
"We look forward to the resumption of talks in Geneva on Monday," the US Secretary of State told reporters.
"And there isn't a person standing here who doesn't understand how difficult it is. Witness the comments made just yesterday by the foreign minister of Syria, clearly trying to disrupt the process, clearly trying to send the message of deterrence to others."
Kerry's comments were echoed by his French counterpart Jean-Marc Ayrault who accused the Syrian foreign minister of a provocation.
Ayrault said those meeting in Paris, also including the foreign ministers of Britain, Germany, Italy and their EU counterparts, had agreed that in order to guarantee the credibility of the peace talks, the ceasefire should be fully maintained and humanitarian access unhindered.
But as Syrian government envoys arrived in Geneva for the talks, coinciding with the fifth anniversary of the start of the conflict, the signs are not good with opposition negotiators saying the country's political transition can only start once Bashar al-Assad is no longer president.