Italy's Senate votes to recognise same-sex civil unions
Comments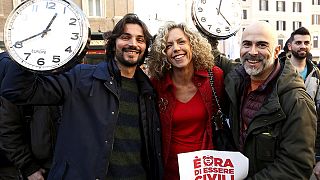 Italy's Senate has voted to legally recognise civil unions, as the last holdout in Western Europe took a compromise step to give some rights to same-sex couples, after a bitter battle that lasted years.
But gay and lesbian groups are angry because a provision allowing gay adoption was removed from the bill.
"We are outraged, angry, disappointed," said Marilena Grassadonia, President, Italian Association of Homosexual Parents. "We can't believe that in 2016, in the Europe of rights, in a country like Italy which is so proud to be part of this Europe, it is possible to make a law on civil unions without considering children who should be protected as Italian citizens and discriminated minors. The country has lost a great opportunity to make the first great step towards civilisation."
The legislation was spurred on after the European Court of Human Rights condemned Italy last year for discriminating against gay people.
The bill, which much still pass the lower Chamber of Deputies, falls far short of authorising same-sex marriage.