Brave Warrior 2015: military exercise ends in Hungary
Comments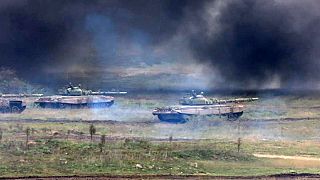 A joint NATO drill involving troops from Hungary and the US has ended with a live firing exercise.
The operation – known as "Brave Warrior 2015" – involved more than 900 personnel and 300 vehicles and military jets.
.2dCavalryRegt</a> Soldiers conduct a combined live-fire during Exercise Brave Warrior, Hungary, Oct. 15, 2015 <a href="http://t.co/PG7JL83d9C">pic.twitter.com/PG7JL83d9C</a></p>&mdash; U.S. Army (USArmy) October 18, 2015
It is part of NATO's Atlantic Resolve military operation.
"Obviously, such a military drill has a message, all military drills have messages. When the crisis in Ukraine started and Russia intervened in Ukraine's internal affairs and the whole conflict started, NATO ordered a series of military drills in Europe. The US Armed Forces exercising with the Hungarian Defence Forces and with other nations are part of this series." said Brigadier Gábor Böröndi, Chief of the Hungarian Army.
The exercise has to be approved by the US Senate, as the U.S. Army 2nd Cavalry Regiment's 4th Squadron was under Hungarian command.
Observers say this is an indication of the cooperation between the US and Hungary, which began to take shape at the beginning of the year.
Euronews correspondent Beatrix Asboth says: "A military drill like this is not only important from a military point of view, but also from a diplomatic one. The media heard last year that Hungarian business people were banned from the US. Now this joint military exercise suggests that the two countries have mended their diplomatic tensions."