Saudi Arabia breaks with tradition as new heirs to throne named
Comments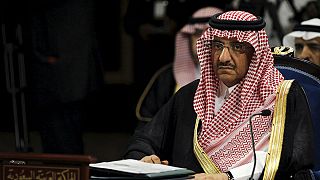 Saudi Arabia is to undergo a serious reshuffle of power.
King Salman bin Abdul Aziz, at the helm since January 2015, has broken with tradition and named his nephew and current interior minister, Prince Mohammed bin Nayef, 55, crown prince.
Since 1953, the sons of Abdul Aziz al Saud, the founder of modern Saudi Arabia, have handed down power to one another.
This, it seems, will stop with 78-year-old Salman who, in addition, has appointed his son, Prince Mohammed bin Salman as deputy crown prince. Defence minister since January, 2015, he is believed to be in his 30s.
The reshuffle sees the king's half brother (and, until April 29, the crown prince) Muqrin bin Abdul Aziz pushed aside.
So, who are the people set to give Saudi Arabia such a shake-up?
Prince Mohammed bin Nayef
The appointment is expected to please the United States, a country he's said to have a strong.
Security chief Mohammed bin Nayef is known for taking a strong stance against jihadist militants.
In 2009, he survived an assassination attempt by al-Qaeda.
The Deputy Premier led a crackdown on jihadist militants following the 9/11 terror attacks in the US.
Following his father's death in 2012, he was appointed interior minister and will continue in this post for the time being.
Mohammed bin Salman
His father propelled him to the forefront of the political scene in January, 2015.
Throughout April, the defence minister has been overseeing a military operation in Yemen in which a Saudi-led coalition is defending the country against mainly Houthi rebels.
His involvement in this war and the accompanying diplomatic manoeuvres have made him one to watch in the future.
With the perceived threat from Iran and the Arab Spring weighing heavily on the country, both he and the new crown prince have the security of the kingdom resting on their shoulders.
A law graduate from the University of Riyadh, Mohammed Bin Salman began his career in 2009, as an adviser to his father. He was appointed defence minister when his father became king.
In other news…
Prince Saud al-Faisal, foreign minister for nearly 40 years, has apparently "asked to be relieved due to his health condition." The 75 year old is to be replaced by the Saudi ambassador to the US, Adel al-Jubeir. His appointment is a rarity, as the position usually goes to a member of the royal family.
The Saudi government's most senior female, Nora al-Fayez, has been removed as deputy education minister for girls. She had held the position since 2009 and sought to introduce potentially controversial programmes, such as sport for girls in state-run schools. This was opposed by religious traditionalists.