Armenian killings 'genocide' says German President
Comments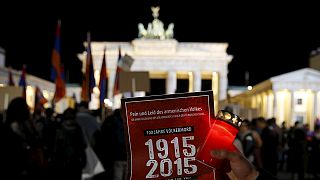 As commemorations begin to mark the 100th anniversary of the massacre of up to 1.5 million Armenians, the German President Joachim Gauck has described the killings at the hands Ottoman Turkish forces in 1915 as a 'genocide'.
His speech marked the first time Berlin used the controversial term, while also admitting Germany bore some responsibility in the deaths as an ally of the Ottoman Empire.
"The fate of the Armenians is an example for the history of mass destruction, ethnic cleansing, expulsions and genocides, which marks the 20th century in such a terrible way," he said.
The move is likely to outrage Turkey which rejects that the killings constituted genocide, arguing both sides suffered losses during the conflict. The government also disputes the figures saying close to 300,000 Armenians lost their lives due to the war or disease.
Speaking on Thursday the Turkish President said that they had "no issues with the Armenian people, but only with those who exploit these incidents." He added that the Armenian Diaspora wants to use the issue for political gain and that Turkey was always ready to talk with Armenian leaders.
In February, Armenia withdrew peace accords with Turkey signed in 2009, setting back efforts to renew relations after a nearly a century of hostility.