ECB chief Mario Draghi unhurt after protest during speech
Comments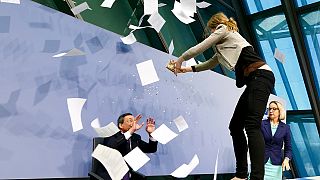 European Central Bank President Mario Draghi was unhurt after a press conference was disrupted when a woman jumped on to the podium.
The protester, dressed in black, shouted: "End the ECB dictatorship."
Draghi was visibly shaken and held his hand up in defence before the women was removed by security officials.
A Feminist activist group called Femen later claimed responsibility on Twitter for the protest.
The press conference resumed shortly afterwards.
[Watch it] #ECB president Mario #Draghi shaken but not stirred http://t.co/VGiuyttsqQpic.twitter.com/aEPNbzgbZ9

— euronews (@euronews) April 15, 2015
Video: Protester interrupts ECB press conference by jumping on desk and showering Mario Draghi with confetti - ECB http://t.co/ZXNeiJD58T

— SavageNation (@SavageNation) April 15, 2015