Italy: Coastguard rescues almost 1,000 migrants in 24 hours
Comments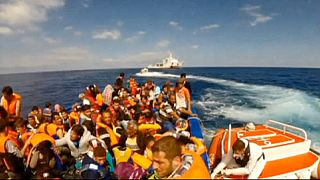 Dramatic footage from Italy's coastguard has captured migrants' desperate attempts to reach the safety of a rescue vessel after their own boat overturned.
In less than 24 hours, Italian coastguard teams have saved almost 1,000 migrants in seven separate rescue operations between Sicily and the North African coast.
But in addition to the 941 migrants saved, at least 10 bodies have been found in the southern Mediterranean.
Coastguard spokesman Filippo Marini told Italian television that it was when rescue teams approached that one migrant boat capsized, as those on board rushed for help, towards one side of the vessel. Many, he said, had never seen the sea before and didn't know how to swim.
Last month, over 300 people died in a one-week period trying to cross the sea from Africa to Italy whose refugee centres now house more than 67,000 people.
Italian authorities say that in January and February, almost 8,000 migrants arrived – that is up 43 percent compared to the first two months of last year.
The rise can be explained largely by the ongoing chaos in Libya – the starting point for most of the migrant boats.
Italy ended its large-scale search-and-rescue mission Mare Nostrum last year because of the cost and amid criticism from some who said it merely encouraged people to make the crossing.
Mare Nostrum was set up after more than 360 migrants drowned when their boat capsized near the Italian coast in October 2013.
It has been replaced by an EU border control mission, Triton, that does not have a specific search-and-rescue mandate and which has fewer ships and a much smaller area of operation hugging tightly to the Italian coast.
The European Commissioner responsible for Fundamental Rights, Frans Timmermans, promised on Twitter on Wednesday to present a full EU migration strategy by the middle of May.
We decided today to act faster and will present our EU Migration Strategy by mid-May #migrationEUAvramopoulos</a> <a href="http://t.co/t4BezTSnZE">pic.twitter.com/t4BezTSnZE</a></p>&mdash; Frans Timmermans (TimmermansEU) March 4, 2015
The UN refugee organisation UNHCR says that at least 218,000 migrants crossed the Mediterranean by boat in 2014 and 3,500 lives were lost.