Video: Helicopter crashes to ground in Syria amid fierce fighting near Damascus
Comments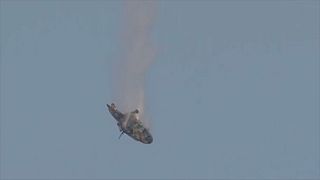 This is the dramatic footage of a Syrian regime helicopter plummeting to the ground, according to opposition figures.
Free Syrian Army say they shot down the chopper over the besieged town of Daraya, near the capital Damascus.
The footage shows the helicopter ablaze, its tail destroyed, as it drops out of the sky, disappearing behind buildings just before it hits the ground.
Daraya, dominated by Syrian rebels, has been the site of intense fighting over recent weeks.
Yesterday claims emerged from Syria's main opposition, the National Coalition, that troops loyal to President Bashar al-Assad had used poison gas in one attack on Daraya , allegedly killing at least three people.
It comes as the the Organisation for the Prohibition of Chemical Weapons – tasked with removing Syria's chemical weapons – said the arsenal transferred out of the country was not that high.