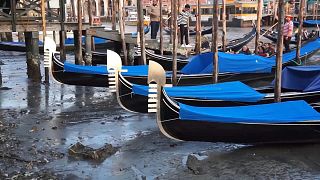 Venice is famous for its winding network of canals.
The waterways - which are navigated by thousands of water taxis and gondolas every day - offer a unique perspective on the city.
Between October and January, the city's main concern is usually flooding. A few days each year the water levels rise and cover low parts of Venice like Saint Mark's Square.
But a combination of factors means these famous canals are running dry.
This doesn't mean you need to cancel your trip to Venice. Follow a local's advice on how to navigate the city during low waters.
A lack of rainfall is partially to blame after weeks of dry winter weather, but a high-pressure weather system, full moon and sea currents have also contributed to the drought.
Traditional gondolas and water taxis have been affected by the low water levels. The drought also impacts the city's vital water ambulances, which may struggle to navigate Venice's main transportation routes.
Rivers and lakes in Italy suffer from low winter rainfall
Rivers and lakes in Italy have been suffering from a severe lack of water this winter - especially in the north of the country. The Alps have received less than half of their normal snowfall this winter.
Italy's longest river, the Po, runs from the Alps to the Adriatic Sea. It has 61 per cent less water than is normal at this time of year.
Levels are also low on Lake Garda, meaning it is possible to reach the island of San Biagio on foot.
"We are in a water deficit situation that has been building up since the winter of 2020-2021," climate expert Massimiliano Pasqui told Italian daily newspaper Corriere della Sera.
"We need to recover 500 millimetres in the north-western regions: we need 50 days of rain," he said.
It comes after the country faced its worst drought in 70 years, declaring a state of emergency in the Po River Basin last summer.
Watch the video above to see Venice's dry canals.