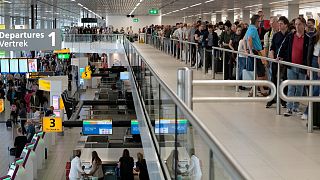 -
Copyright

AP Photo/Peter Dejong
Amsterdam's Schiphol Airport will continue to limit passenger numbers in April and May due to staff shortages.
Although restrictions will gradually ease from the end of March, departing flights will still be capped during the peak morning hours.
Between 6am and 1pm every day, airlines will need to book five per cent fewer seats - meaning around 5,000 fewer passengers per day.
The new rules will apply from April until mid-May, including over the spring school break in the Netherlands.
The restrictions aim to reduce the risk of lengthy queues at check-in, security and passport control.
How will Schiphol's caps affect travel?
Although Schiphol's passenger caps will continue, the outlook is brighter than last winter when they stood at almost 20 per cent.
The average number of daily departing passengers will increase by 65 per cent from 40,000 over the 2022 winter period to 66,000 during this May holiday. On peak days, it could reach 70,000.
This number is 14 per cent higher than over the May 2022 holiday (58,000 passengers on average) and just below 2019 figures, when an average of 72,000 passengers departed the airport each day.
Dutch airline KLM has said it will not cancel any flights as a result of the caps, though it will have to sell slightly fewer tickets.
Why is Schiphol Airport capping passenger numbers?
Schiphol is enforcing caps to ensure that passenger numbers do not overwhelm the airport.
Like many others, it has faced staff shortages in the wake of the pandemic. This was further exacerbated by strikes over pay and conditions in spring and summer of last year.
"2022 will go down as a bad chapter in our own history books," the airport's interim CEO Ruud Sondag said when releasing the Schiphol Group's annual report, which revealed huge financial losses for 2022.
"But it is also a chapter we will not forget, so that all the new chapters we write will be better," he continued.
Shortages in Schiphol's security and baggage handling capacity led to hours-long queues, causing missed and cancelled flights last summer. This prompted Schiphol to impose limits on passenger numbers to ease the chaos.
"Never before in Schiphol's history have we disappointed so many travellers and airlines as in 2022," said Sondag.
The group has pledged to improve working conditions and wages in order to create a happier and more sustainable workforce.
How long will airport caps last at Schiphol?
While Schiphol Airport hopes to gradually ease its daily passenger caps as it becomes more capable of handling large numbers, it also faces pressure from the government to impose limits on flight numbers.
An annual cap of 440,000 was proposed to reduce noise pollution and protect the environment. As a temporary solution, the airport has agreed to an initial cap of 460,000 flights yearly through September 2024. Previously, this was set at 500,000.
The airport hopes that developments in pollution reduction and sustainable aviation fuel will allow them to raise this limit in future.