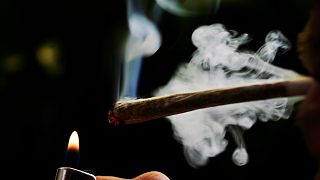 -
Copyright

AP Photo/Peter Dejong
Smoking weed on the streets of Amsterdam's inner city will soon be banned, the city's council has announced.
The destination has long been known for cannabis but local residents have complained that overtourism is making the centre of the city unlivable. More than 18 million travellers visited Amsterdam last year.
"Residents of the old town suffer a lot from mass tourism and alcohol and drug abuse in the streets," the council said in a statement.
"Tourists also attract street dealers who in turn cause crime and insecurity."
They added that the atmosphere can "get grim, especially at night" when people who are under the influence hang around for a long time.
Now smoking joints in public in the inner city is set to be outlawed from mid-May. If the situation doesn't improve, the council is considering extending the ban to include the terraces of cannabis coffee shops.
What new laws are being introduced to tackle overtourism?
The city's council has announced a series of new bylaws that are meant to prevent the excesses of tourism including the ban on smoking weed.
Shops in the inner city also won't be able to sell alcohol after 4pm from Thursday to Sunday. They will have to remove or hide alcohol bottles and cans from window displays too. Sex workers will have to close their doors at 3am.
Bars, restaurants and cafes will be required to close at 2am on weekdays and 4am on Fridays and Saturdays. New customers won't be able to enter after 1am.
How is Amsterdam tackling tourists' bad behaviour?
"Drinking alcohol on the street is also prohibited, and we have taken measures against street dealers," the city says.
Almost the entire city council backs the new measures to tackle overtourism, according to Dutch media reports. The bylaws will be open for consultation from residents and business owners for a month and are just one part of ongoing efforts to crack down on visitors' bad behaviour.
Amsterdam has already employed city "hosts" whose job it is to manage crowds and parts of the red light district can be completely closed off. It is also investigating a potential ban on stag and hen parties.