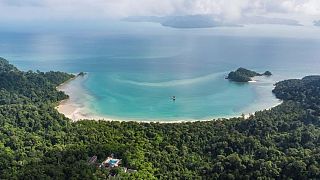 Standing atop one of the rainforest covered hills, you might believe, when looking out at the undulating, emerald gem that stands before you, that you've stumbled upon heaven. Made up of 99 islands off the west coast of Malaysia, Langkawi is the tropical destination the western world forgot. Langkawi, when translated, means 'the land of one's wishes' – something that many of its visitors would agree upon after spending an idyllic few days there. Once believed to be a stopping point for pirates sailing the Indian Ocean, the main island hums with historic folklore and ancient myths.
Thanks to its still relatively low profile, it's retained its rustic charm, wild landscapes and relaxed atmosphere whilst still catering generously to visitors. Luscious paddy fields, verdant mangroves and white sand beaches make up the landscape of the main island, where many of the luxury hotels and resorts. This isn't your typical Asian paradise resort, though. Though the international airport welcomes several flights a day, the preservation of the islands' natural treasures and the surrounding Malaccan sea remain a top priority for the local government, making it one of the most eco-friendly holiday destinations in Asia.
Whether you're looking to stock up on the tax-free alcohol, dive off the world famous reefs or relax on the pristine beaches, the warm hospitality, proximity to natural beauty and slow pace of island life will leave you utterly relaxed in no time. Living it gives you an insider peek at the best things to see, do and eat on this illusive paradise island.
The ultimate luxury getaway
For the ultimate luxury getaway, look no further than The Datai – a five star hotel and spa tucked amongst the trees of a 10 million year old rainforest. Due to fully open in December 2018, it features a private footpath down to Datai Bay – voted by National Geographic as one of the top ten beaches in the world – as well as its own resident world-famous naturalist, Irshad Mobarak, who leads tours for guests through the nature surrounding this beautiful hotel. In fact, the buildings themselves have been purposefully designed by architect Kerry Hill to honour the natural setting by using only sustainable materials. Book into one of the Rainforest Collection rooms to enjoy the night song of the Datai's airborne residents as you drift off to sleep.
A natural sanctuary
Known for its stunning beaches, days spent relaxing next to the waves will be ones well spent but you should still leave some time for exploring the islands' other natural beauty spots. On particularly fine days, head up in the Langkawi Cable Car to the Sky Bridge – a 125 metre long footbridge above the Gunung Mat Cincang and Telaja Tujuh waterfalls. Though certainly not for the faint-hearted, being 700 metres above sea level, it offers an unparalleled view of the main island and sea beyond.
Get up early one morning and trek with a guide to watch the sun rise from the top of Gunung Raya – Langkawi's highest peak at 881 metres. Believed by locals to be the cursed, sleeping form of an ancient giant named Mat Raya, it's home to flying foxes, leaf and macaque monkeys. If you're lucky, you might also catch a glimpse of the somewhat elusive Mountain Hawk Eagle on its morning flight.
A day should also be put aside for the Pulau Payar Marine Park – a protected island around 45 minutes by boat from Kuah Jetty, on the south east coast of the island. Fishing is banned and permission to visit must be granted (this is included when you go with a tour guide), so the Coral Garden and marine life is left to thrive in peace, making it great for a spot of snorkeling or scuba diving.
Indian and Asian flavours
Surrounded by ocean and being part of Malaysia, much of Langkawi's local foodie offering is seafood based and influenced by Indian and Asian flavours. Locally sourced incredients are the name of the game at Kayu Puti, the St Regis' luxurious al fresco dining room jutting over the Adaman Sea. Overseen by Executive Chef Gaetan Biesuz, the extensive menu features several vegetarian and vegan options, all created using French techniques and finessed with Asian flavours.
The food is almost too pretty eat, but eat it you must as the flavour combinations will stay with you for days. Another option with a spectacular sea view, The Planters at The Danna Langkawi offers up a menu of Mediterranean, European and Asian dishes, each made in the open kitchen, allowing guests to see their meal take form.
Just five minutes out of Kuah, Langkawi Fish Farm Restaurant remains one of the most popular and respected sea food restaurants on the island. Seating up to 300 people, the open air dining room is often buzzing. Guests are invited to catch their own dinner, choosing from a selection of sustainably sourced fish and crustaceans in the large aquariums. Fresh and well looked after, the fish is cooked with local flavours.
Picturesque beaches
Lazy beach days are a must on Langkawi, where sand is some of the finest and whitest in Asia. Those looking for some seclusion will appreciate the vastness of Pantai Tengah, the longest beach on the island. Just down the coast from Pantai Cenang, it's home to a few big resort hotels and smaller villas, though it's spacious enough for you to enjoy an element of privacy.
As mentioned above, if you can gain access to Datai Bay through one of the exclusive hotels hugging its coastline, you'll be rewarded with a stretch of untouched beauty. For one of the island's best photo opportunities, head to the Black Sand Beach which, according to folklore, is black thanks to a war that took place years ago between a Roman prince and a giant eagle. More scientific minds attribute its colouring to the tourmaline and ilmenite minerals that run off Gunung Raya through the waterfalls and streams. With an old wooden jetty that juts out into the aquamarine sea, it's a picturesque spot for fishing or for observing the surrounding islands and beaches.
Writer: Bianca Barratt