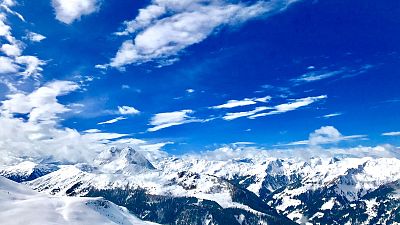 Kitzbuhel, a friendly, quaint town, is one of my favorite spots in Austria, providing an incredible place to ski against a stunning "Winter Wonderland" or, in the summer, a beautiful hike in the vibrant green mountains followed, of course, by a dip in one of its natural pristine clear blue-green lakes. It caters for families, pedestrians, nature lovers, adventurers, and thrill seekers. Whether you take a snowmobile up a snow-capped mountain to dine in Hahnenkahm or wander the winding trails up to the Horn, there really is a perfect adventure for everyone. And, if you're tired, you can take the gondola, or 'Bahn', up to meet friends, savoring a picnic of local cured meats and cheese while enjoying the stunning Mountain view for miles.
A Hotel
The A-Rosa hotel chain is immediately welcoming, a phenomenal sanctuary offering many fireplace lounges, an outstanding bar, enormous spa, and a fitness program overlooking the golf course with a view of the mountain forests. The location simply can't be beaten, only a short 10 minute walk from town centre. When you're hungry, you can enjoy a huge selection in the breakfast room, which is complete with holistic fresh herbal teas that you can curate to create your own condition of chamomile, fennel, apple, or other intricate organic herbal teas. Want something more for your belly? You'll be impressed by the huge array of local and international foods available at its many buffets but the best are their pork Schnitzel slow fried in butter served with roasted potatoes.
A family-style ambience makes its gigantic spa and wellness area the best treat I have experienced in a long time. Try one of the seven different saunas and steam baths, comfortable large beds and warm stone lounges to rest in the tranquillity room. Or, if you have a bit more energy, try one of the many Pilates, yoga, or aqua-fitness classes offered on site. Whatever you choose, you'll find your own element for maximum healing and relaxation. If you plan your trip in the summer, you can enjoy the hotel's impressive golf course facilities, following your game with an Aperol Spritz, served with Prosecco or white wine, as your daily refreshment on the terrace. The only downside of a summer stay is that the sun is awfully strong, so don't forget your SPF.
Another great hotel recommendation is Kitzhof, a mountain design hotel, which is a short walk to the pedestrian sidewalks of the cute town of Kitzbuhel. Offering entertainment and amazing cuisine, it's a well-loved home-away-from-home for German and Italian tourists.
A Sight
If you drive in from Munich, a 2.5 hour drive, do make a pit stop at Stanglwirt Hotel for freshly squeezed pasteurized milk and a mouth-watering mixed salad. Savour every sip and bite while watching the cows through your glass windows from the inside restaurant. Everything on the menu is organic and fresh here!
Hahnenkamm, the most renowned slope of this region and host of the infamous 'Hahnenkamm world cup race' every year, is a must-stop if you're looking to ski.
For a few pre-slope pointers, consider using the 'Rote Teufel', which means 'red devil', ski school. If you like to gamble, there is a fun casino that is worth a stop. In the summer, it is a golfer's paradise and a hiker's dream, the perfect destination to wander aimlessly through fields or, for those inclined to adventure, mountaineering.
Known as a popular destination for water-lovers as well, you can find natural streams and ponds. Schwarzsee, which translates to 'Black Lake', is a beautiful place to swim during the summer, ice skate during the winter, or fancy a stroll on a sunny day to breathe in the fresh mountain air.
Its local restaurant is a popular spot that serves delicious simple foods like spaghetti, schnitzel and salad, which can be enjoyed day or night. Ride horses, play tennis or discover tiny towns nearby - nature is a glorious gift to discover here.
A Restaurant
Rosi's Sonnbergstuben, a quaint little hotel, is nestled up on top of the mountain, which is precisely why it boasts stunning views of the Hahnenkam ski slope. Amazing for alfresco meals during the summer, it is a traditional family-owned restaurant renowned by locals. During the winter, although the trek up the curvy road might be slow-going, there's nothing like the reward of tasting their classic Austrian dishes.
Try spaetzle with cheese, roast duck with dumpling and red cabbage, a large Schnitzel accompanied by roast potatoes and cranberry sauce. And, in case you don't remember on your own, please don't forget the dessert! 'Heisse Liebe', a vanilla ice cream bowl draped with hot raspberry sauce and homemade whipped cream, is definitely my favourite! If you like pancakes, opt for a similar taste in the 'Kaiserschmarren', a thick-baked chunky dessert filled with raisins and paired with apple sauce or warm plum chunks topped with nuts. Of course, the apple strudel is authentic, which means it's always a safe choice when you're in Austria. Be sure to go on a weekend for the best ambience. Enjoy dinner inside, resting on the cozy decorated wooden benches, and surrounded by colourful sewn pillows, flowers, old instruments and art-draped walls. You would never expect to feel this "at-home" in a foreign country! If you're in luck, Rosi, the owner, just might feel like singing mode, which means you'll get to see them break out the guitar and the festivities really begin! As you can imagine, Rosi is a super friendly and robust lady with tons of charm so join in the chorus! Chances are you can pick her out of the crowd by her Bavarian dirndl dress...
A Purchase
Austrians are well known for their bakeries and coffee, which means you shouldn't just try pastries - you should bring them home! A Krapfen, similar to a doughnut but filled with strawberry Marmelade, vanilla cream or apricot jam, makes for a nice doggie bag gift. Add fresh baked fresh pastries and local 'Spitzbuben' cookies for bonus points. At Christmas, the varieties are vast, so don't be afraid to try (or take) all of them with you. It truly is a taste of one of the nation's longest-standing traditions.
Looking for a ski suit? The renowned red deer emblem on some of your favourites comes from this town, pop into Jetset or Frauenschuh. If you want something special, find a deer leather jacket, which is mostly paired with forest green, beige and brown materials (also known as the "camouflage" look), to enjoy year round or for special occasions like Octoberfest. A linen 'Jankerl' jacket is more lightweight and makes for a fun alternative, especially in festive pink or lavender colours if you dare to be so bold. I purchased a lovely dark purple velvet version with hot pink accents, lined with dark green deer motif on the inside, created by the renowned designer brand "Habsburg." I've seen these worn in New York, Colorado, Germany and Switzerland for weddings, dinners or special occasions, mostly with jeans. Or check out one of the fabulous classic cashmeres to wool, intricate snowflake or deer-themed motif local fave.
By Natalie LeFevre
Please follow me on Instagram : @island_natalie