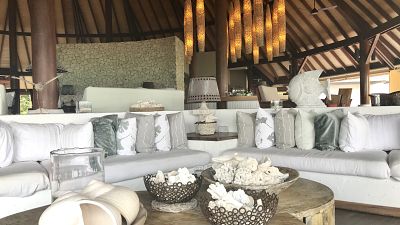 Surrender to the harmony of a soulful, island lifestyle. The enchanted Seychelles consist of 115 granitic and coral islands, of which very few are private exclusive island resorts such as this rare jewel surrounded by a sapphire sea.
Seven degrees below the equator, I fly home to this Indian Ocean paradise, where I was born. Tourists can island hop via ferry, boat, inter island charter plane or helicopter from the main island of Mahe.
I got to know the owners of Denis island, Kathy and Mickey Mason as a child, growing up with their daughter Allison who invited me as her guest this week.
A hotel
Denis island is a private luxury resort with a focus on sustainable experiences. Take advantage of the complimentary turtle watch or island tour with local guides who will explain the natural habitat of sea turtles, native and visiting birds. You are guaranteed to catch a glimpse of one or more sea turtles in these magical waters. Some evenings are documentary or tutorial nights in the library if you're interested to learn more about the other islands, sharks, turtles, fauna or history.
A sight
There is such an abundance of nature that I don't know where to begin. But sea-turtle spotting, whether while swimming in the lagoon or strolling along a beach is an undoubted highlight. Inland there is a tortoise farm, an enormous range of flora and the chance to spy a white Ferytern that sits unflinching on a branch as you pass.
A restaurant
The resort has its own farm, complete with the decendents of imported British cows which is the only way to ensure a supply of fresh creamy milk, yoghurt and homemade cheese. Cured local meats, suckling pig or fresh octopus are also regular features.
Sitting on a sofa inside the main hall with its tall, thatched roof you can listen to local musicians amid swaying lanterns. Coconut water and duck eggs make a delicious breakfast and sushi is ideal for any time of day.
A purchase
Check out their gift shop! It's dedicated to unique island style products with their Denis island logo. I purchased some marine wildlife themed candles decorated with sea urchins, shells and fish. I also brought home some homemade cheese, yoghurt and milk back to the main island for my mother. I only wish I could have bottled the coconut water!
Follow my journeys on Instagram:
@island_natalie or @wander_beyond