The French Riviera, or if you prefer, the Côte d'Azur, is where so many of the greatest modern artists came for their senior days and plied their trade and nowhere (not even in Italy) are there as many collections, museums, houses or studios entirely devoted to individual artists.
There are also many advantages to visiting off-season such as the absence of that notorious deadlocked traffic and the service in restaurants and shops is far more attentive than in August. Queues are nowhere to be seen and tourists, a rarity. I was often the only tourist giving me the opportunity to get fully immersed in the French vernacular especially as the locals were free from the constraints of the tourist trade.
First I drove to La Colle sur Loup where I sat at Alain Llorca's eponymous restaurant. With sea bass and then roasted deer, pan-fried scallops, then thyme sorbet, I certainly fed well. He is a renowned chef who spent nine years at the Negresco, Nice's famous hotel and he very much has his own approach.
"Savour the tranquillity and enjoy the passing of time" he said, as I sat on his panoramic terrace looking down on the vineyards and up at the walled citadel of Saint Paul de Vence, made famous by the Colombe d'Or restaurant. As with all gourmet restaurants every dish was like a present, a real experience as I was invited to guess the process of the flavours, each course seemingly part of a journey.
Then I drove up to the old town of Mougins. This is a classic pretty hilltop town with its small spiral of narrow passageways, or the perfect traffic-free path for the local shepherd to follow his gaggle of six geese. I ate at L'Amandier, a restaurant with an historic reputation, the home of the former chef Roger Vergé and now under the watchful eye of Denis Fétisson. I had a spider crab remoulade, with cream of cauliflower, quinoa and fish soup jelly, a delicious black Angus rib steak, then some goat cheese from Mr Monteiro all to the accompaniment of a white wine called Domaine des quatre vents a Cassis.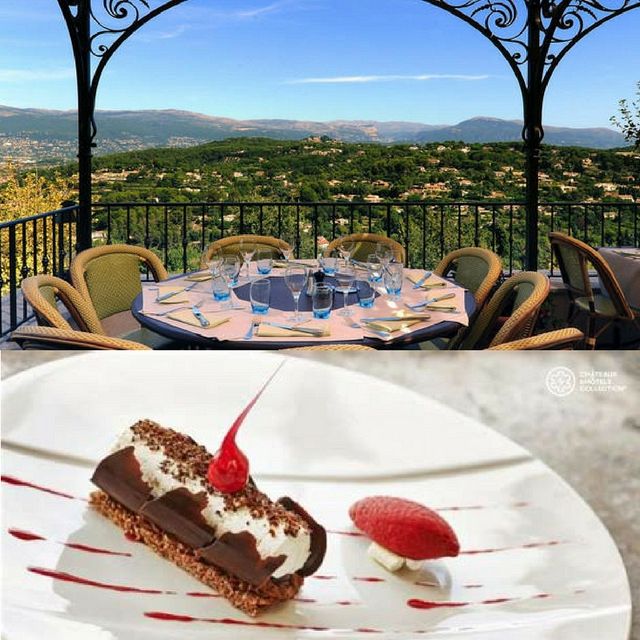 I stayed just outside Mougins at the Le Manoir de l'Etang. Camilla, the Swedish owner, modestly claimed the interior lacked ultimate luxury given that there were stairs rather than lifts.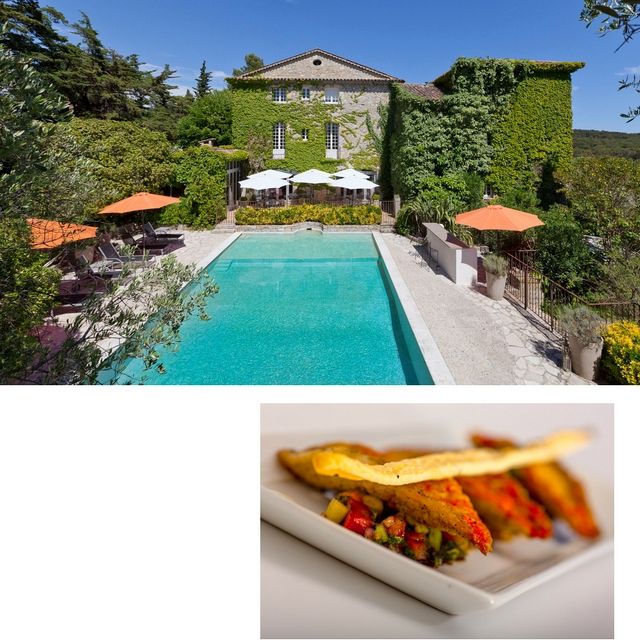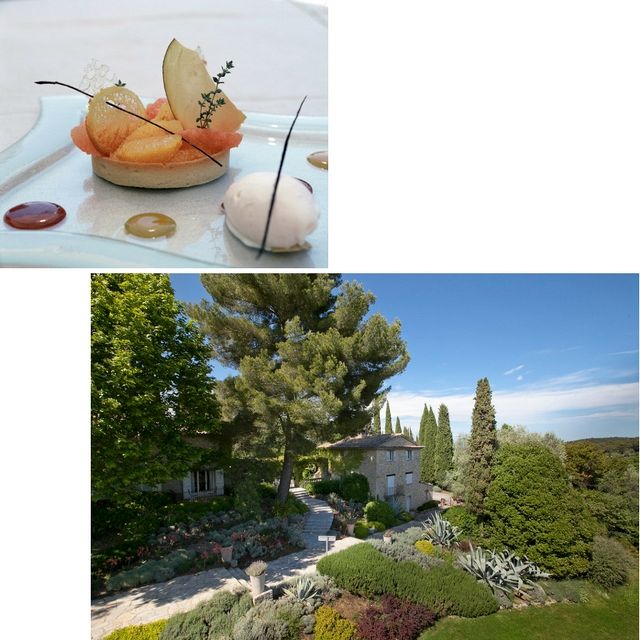 Small ethnic sculptures are amongst many of the artefacts sourced locally, though the iron furniture and rugs are Moroccan, and her mother made all the cushions. Le Manoir opened in 2004 and attracts a versatile clientele. It's perfect for as many as all four generations.
In town, I opted for Les Rosées, a romantic and discrete restaurant full of character and charming. It only has five tables and so felt perfect in the off-season. My dinnerware consisted of Astier de Villatte ceramics as I sat and ate in the drawing room beside the grand piano in sight of the cooking. It offered a confident rustic menu with Italian veal and organic vegetables from its garden. Fruits came from the Cozie Alps and the local white wine, called Jas d'Esclans (Côtes de Provence) Cru Classe, was both light and a delight. I began with a terrine amuse-bouche followed by creamy zucchini and pumpkin soup.
Picasso discovered Mougins in 1936 but it was in his last twelve years, ending in 1973, that he lived close to a chapel and amongst birdsong at le Mas Notre-Dame de Vie. Camilla suggested I visit the Friday market at nearby Valbonne. What a beautiful town of classic yellow buildings with celadon-coloured shutters.
Down to the sea in light traffic and in sight of the Riviera's stunning teal-coloured water at Antibes, I lunched at La Closerie which is popular with locals, which gives it an automatic seal of approval.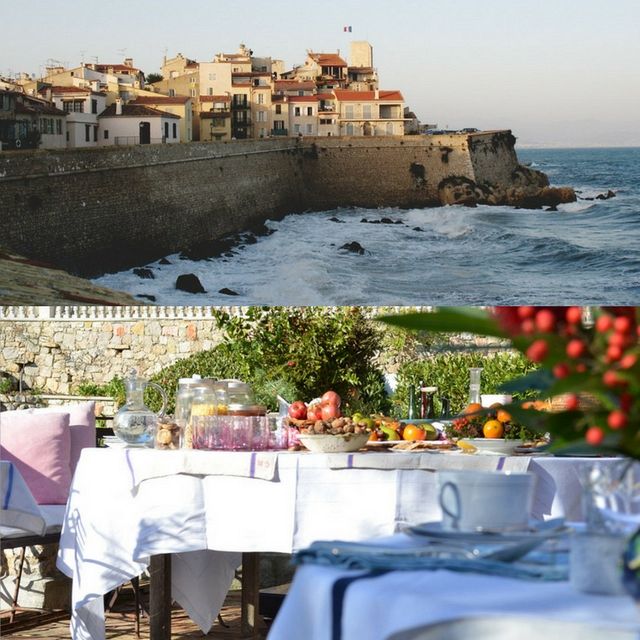 At the Picasso Museum, I looked out of the building and saw in an instant the inspiration behind his seagulls and sailing boats, his palm trees and shapely gourds. It's where he was granted a temporary 'artist in residence' after the war and it offers an eclectic range that is an inspiration for his wider collection of ceramics, drawings, sculptures and oil paintings.
Right next door, Le Figuier de Saint-Esprit is a family-run gourmet restaurant where I watched the food being prepared and cooked via live-streamed television. Service was a performance as waiters appeared in pairs to serve simultaneously.
In 1948 Picasso came to live back inland in Vallauris and it was where he was to stay until 1955. During his time in the town, he created many sculptures and paintings including War and Peace, one of the major artworks of the period and he also developed a fascination for the techniques of ceramics that I had seen in earnest at Antibes.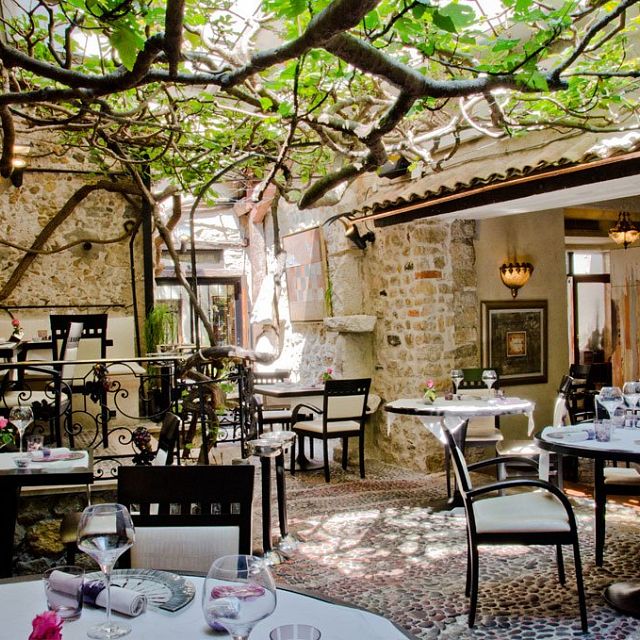 Le Figuier de Saint-Esprit
Off along the A8 I went, the fast and efficient motorway that comes with a péage (motorway toll) and a real alternative to the slow, wiggly but charming bye-roads.
Through the tunnels to Monaco and on to stay at the Hotel Hermitage. This two-parted hotel is bang in the middle between the casino and marina and has a circular dome built by Gustave Eiffel, famous for Paris's Tower, and while the iron grilles are familiar the feminine, floral, romantic stained glass is an exciting departure.
My room was decorated with monochrome printed landscape wallpaper and the lavish lavender colour scheme blended well with the grey and white marble bathroom.
My 'seaview balcony' was even better than it sounded as it overlooked the busiest of jigsaw-box views: namely the marina, along with the castle and the old parts of the town.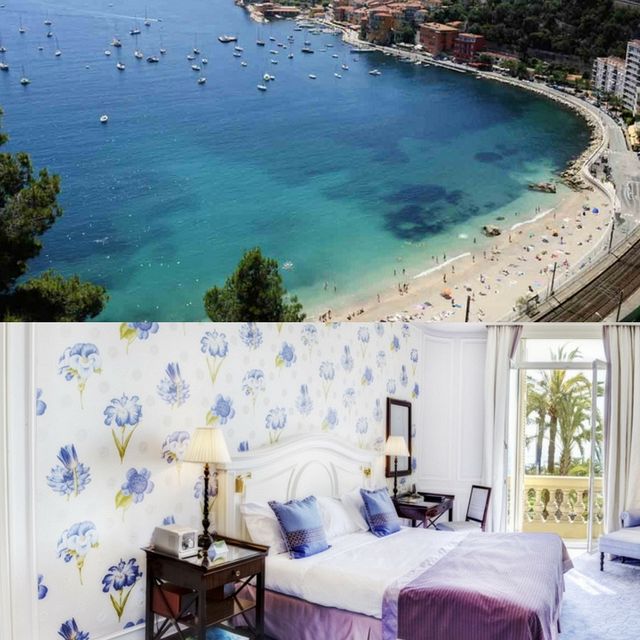 The laps of the Sunday morning marathon runners seemed to overlap with the Grand Prix course. The winter sun came round in time for a balcony breakfast outdoors. Not bad for mid December!
This red and white flagged principality has Monte Carlo as its claim to fame, a veritable temple to capitalism with her casinos and sports cars, top branded-shops and massive yachts all very much on show.
It's extraordinary how every inch is utilised often many floors up as the high-rise buildings are squeezed between the mountains above and the Mediterranean below. How the other half live! Or at least lived as the real interest is in the casino and marina and the historic grandeur of yesteryear and the Grace Kelly era.
The harbour really is a billionaire's water playground though the fish market on its jetty has an excellent sea pool area, one of the rare expanses available to all.
Monaco is unusual because the native Monegasques people are actually in the minority making up less than a fifth of the population.
I was there to see a performance of Momix at the Grimaldi Forum . They are a 35 year-old American company consisting of nine contemporary dancers, under the direction of Moses Pendleton. It's a real spectacle: magical and impressive, sensual, quirky and humorous as they make inventive use of different objects with which they grapple with brilliant virtuosity.
One day perhaps the glory days may come back to the Riviera, this time in style and comfort and off-season.
Writer: Adam Jacot de Boinot
More about Adam over here
Header Picture: Hotel Hermitage Restaurant
Classic Collection Holidays (0800 047 1064; classic-collection.co.uk) offers 3 nights at Hotel Hermitage Monte-Carlo from £795 to £1530 per person, depending on season. Prices based on 2 adults sharing on a bed & breakfast basis and include return flights from London Gatwick (flights available from a further 12 UK airports) to Nice and private transfers.