It's October and there are still some great spots to visit this time of year that offer sunshine, beach, culture and events, like a Regatta. Some southern European countries tend to have more wind such as 'Les Voiles' in St Tropez, France, but in Bodrum, Turkey there's the must-see sailing event the 'Bodrum Cup'. It's not as well-known as some other racing events, but the 5-day sailing tradition is a treasure and easy to get to with inexpensive flights and hotel options. I flew from London direct with EasyJet and in 4 hours I was welcomed to gorgeous skies, the beautiful sea and summer-like weather.
A sight
My friends took me on a boat trip to the secluded marine park at Aquarium Koyu ( Cove) where we stayed overnight. This stunning place, between Gumbet and Bitez, (enter from the Marina by Muglia) is a perfect day trip excursion. It boasts unbelievable nature, phenomenal snorkeling, small rocky beaches and even a small old round church. You can also see Greece across the bay which is filled with many little islands. You can sail through the islands on a catamaran, charter a sailboat with friends or use the local Turkish Gulet (a sailing vessel). If in town, try to visit the Bodrum castle and it's museum.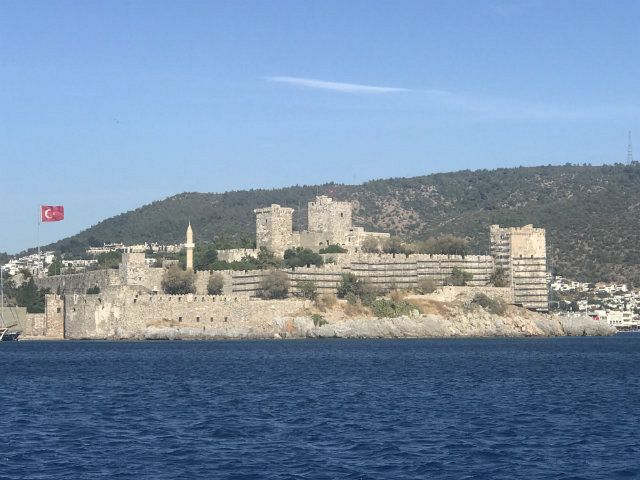 A hotel
If you'd like an upscale hotel with action then the infamous Mada Kimi hotel is a must stay. Otherwise, an alternative is the Isis hotel and spa. It's well priced and offers a luxury 5- star resort feeling. There are many packaged options such as renting a sailboat with friends to discover the bays and little islands nearby or venturing over to the Greek coastline for a combined Turkey-Greece holiday.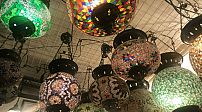 A restaurant
I loved the "Küba" restaurant in town, off the promenade. It offers many vegetable options and local seafood. The owner is very friendly and speaks to you as he knows what you would like, then the small dishes keep coming. I love the calamari and squid here. I had the chance to see a large one at night off the boat hunting. The oldest restaurant in the city is Bortan. This town has many historical and cultural attractions to offer along with the bazaar.
A purchase
I visited the bazaar and discovered many trinkets and local products. I purchased an inexpensive handmade silk scarf. The evil eye is a traditional product here so many glass pieces contain the design. I liked the hand-painted ceramics and if you're in the mood; a glass lantern with color options is a cool find to remind you of this gorgeous place. They offer "Turkish delight " desert in versions with or without nuts, fruits or classic version.
By Natalie Lefevre