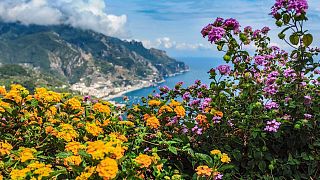 It's the colours that attract lovers from around the world to tie the know on the Amalfi coast. And the textures. The uneven grey stone of cliffs and buildings is the incarnation of history, but the vivid bursts of pink Bouganvilla creeping up pergolas are life and love.
A sight The natural beauty of the area has inspired both religious and artistic minds and the two come together in the local churches. My favorite is in Villa Rufollo Chiesa Dell'Annunziata which offers magnificent views overlooking the coast framed by ancient pine trees. The sunsets are not even rivaled by Santorini.
A hotel Hotel Caruso is a classic nest for newlyweds. The gardens provide the foreground to a scene backed by the Mediterranean and ultimately the island of Ischia. A morning greeting from seagulls is perhaps a bit much for some, especially when they want to share your balcony breakfast, but even the birds are more companionable than pestering.
A restaurant The pizza just tastes different here! Perhaps it's the Mediterranean air, homemade local Mozzarella from the region or the tomatoes that seem to have to soaked up the colours of the countryside and converted them to flavour. Try Mimi Bar Pizzeria. Or try a simple Spaghetti al pomodoro at La Taverna dei Briganti or seafood at Bella Vista sur Mare, where you can also enjoy the outdoor views.
A purchase Ravello Arte store was a fun creative visit for designs of handmade ceramic that this area is famous for. These unique pieces decorated with lemons, tomatoes and vines can set off any kitchen or dining roomr. The local markets also have local artisan gifts to choose from at affordable prices.
By Natalie Lefevre