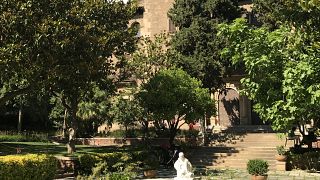 You could argue that Barcelona has the perfect climate – almost always sunny but with the daily heat often tempered by a sea breeze. The cooler evenings merit a light jacket in spring and autumn but outdoor dining is possible most of the year.
A sight
Among a host of competing international landmarks, museums and cultural centres, for a first-time visitor I would pick the Sagrada Familia. Of course order tickets online to avoid standing hours in line.
The city also benefits from a variety of gardens with hidden history and amazing architecture. Fundacio Julio Munoz Ramonet in the picture above is one of the most appealing.
A hotel
A new discovery for me was a boutique hotel called the Wittmore that hosts a cool bar, live music at night, an amazing restaurant with a terrace pool to lounge by.
A restaurant
The Soho house offers drinks and cool music. Head over after dinner at Ajoblanco, a hip local tapas bar located inland. If you prefer to see the ocean try dining at Pez Vela on the strand. A must during the day are the Indoor or outdoor Mercados bustling with a variety of local seafood.
A purchase
Shopping in the city is varied and generally inexpensive and the main stores offer some beautifully crafted gifts. Shoes are well priced or opt for a crochet-style throw or local scarf depending on your budget. If you are more of a foodie, and have space in your suitcase, go for some local Iberico ham.
By Natalie Lefevre