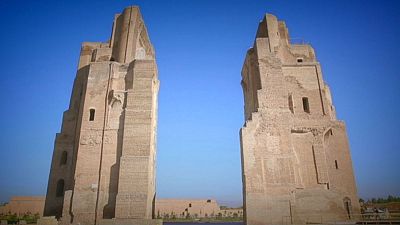 In the last of our Postcards from Uzbekistan we visit the city of Shakhrisabz and the remains of the famous Ak-Saray Palace.
Built in the 14th century, this was once the massive summer residence of the ancient ruler Temur, in the city where he was born.
Key facts about Uzbekistan:
It's in Central Asia, with neighbours including Kazakhstan, Turkmenistan, Kyrgyzstan & Tajikistan
With a population of more than 30 million, the ex-Soviet republic became independent in 1991
The total land area is 425,400 km2, with plains covering about four fifths of the territory
The average winter temperature is -6 degrees celsius and in summer it rises above 32
Almost 80 percent of the population is Uzbek and the main religion is Muslim (88 percent)
On the parts still standing, original artwork has been preserved.
Euronews' Seamus Kearney reported: "It was an amazing feat of architecture when you consider that at the very top of the palace there was even a large pool and a fountain, with spring water from nearby mountains."
Fayoza Dadaboeva, a Shakhrisabz guide, told Postcards: "At that time Ak-Saray was the highest building in Central Asia and one of the highest in the world.
"The height of Ak-Saray was 56 metres and the towers were 72 metres."
Impressions of what the palace used to look like are being made, and the surrounding site is being redeveloped to make sure the memories of the past are kept alive.