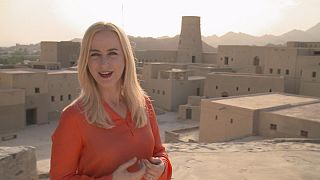 Our third edition of "Oman Life" was dedicated to the country's rich cultural heritage. One of the most iconic forts of the country was our starting point to this edition. The Bahla fort, a Unesco site since 1987. I believe I have never seen a fort this big, the length of the facades is more than 110 metres. Inside the forts were markets, a mosque and even houses where people used to live.
The fort is about two hours from Muscat where we continued our filming. The capital is a huge city that stretches over 25 kilometres along the coastline with some dramatic mountain ranges as a backdrop. One of the filming locations I was looking most forward to was the Royal Opera House Muscat, the first of its kind in the Arabian Peninsula. As a passionate violinist myself, I was wondering how the Royal Opera House would look like from the inside and I wasn't disappointed. The incredibly beautiful foyer and the hall itself are simply stunning. All craftsmanship has been done by local Omani artists. The beautiful tiles are from Italy and Oman. I was impressed by the long list of stars of the operatic world that have performed here. The one and only Plácido Domingo himself opened the opera house in 2011 in the "Turandout" production of director legend Franco Zeffirelli. Ever since stars such as Jonas Kaufmann, Renée Fleming, Yo Yo Ma, Andrea Bocelli and many others have performed here. The acoustics are amazing and the opera house presents a rich repertoire from the world of opera, ballet, jazz, and Omani music. For the season 2015/2016 the program includes performances of Hélène Grimaud, Anoushka Shankar, the Palestine Youth Orchestra, The Vienna State Opera and Diana Damrau.
Our journey through the city's architectural marvels took us also to the Sultan Qaboos Grand Mosque, a breathtaking, spiritual place. Many different styles of Islamic architecture mingle here together. The Sultan had invited 60 of the finest architects from different Islamic countries to decorate parts of the hallways. I was surprised to find even Samarkand tiles there.
Just a few weeks before I had visited the city. One of the most impressive discoveries was the Swarovski chandelier that hangs from the dome in the main prayer hall. Its height is impressive, so are the crystals. It has exactly 1,122 light bulbs and if it needs cleaning, the staff will climb with ladders inside.
The floor is covered with a Persian carpet that was handmade by 600 weavers and spans over 4,000 square metres. It took four years to weave this masterpiece. I was fascinated to see how tradition and the modern aspects of life mingle in perfect harmony.