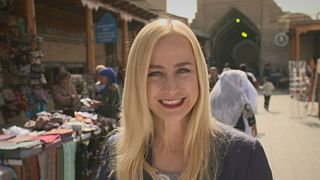 I was fascinated right away when I arrived in Bukhara another important city on the ancient Silk Road. It became a centre of handicraft from the ancient times and still is till today. It's famous for its gold embroidery, carpets, jewellery pottery and metal works.
I wanted to get to know the rich heritage of handicraft in Bukhara and to meet the people who still continue the centuries old traditions till today. Wherever you look around in the city you can see bazaars with all kind of handicrafts. We started our journey at a beautiful private house where I met up with a group of young women who were weaving stunning carpets. It is an old tradition that the girls meet in the biggest house of the neighbourhood which belongs to the master to weave together, exchange techniques, colours, patterns and to learn from each other. I was fascinated by their ability to weave that fast, I had a hard time to follow them with my eyes. One of the girls convinced me to try my luck as well. They did giggle quite a lot when they saw my poor attempts to hold the needle. As a "lefty" it wasn't easy to work out the right direction. On top of that you do need a lot of dexterity, technique, speed and foremost patience to be able to produce one of these master pieces. For a carpet of 1m x 1,5m it takes up to eight months to complete it and they work every day on it.
These beautiful carpets are still sold in the old domed bazaars that date back to the 16 century. They are indeed architectural marvels. 70 percent of these historical monuments in the city date back to this period. The city was particularly known for its caravanserais where the merchants stayed when they came to trade in the city. These "roadside inns" were dedicated to different nationalities, so that the merchants from one country could stay among them. These merchants had all amenities one can imagine: tea houses and even a Turkish bath. I imagined how these huge caravans flocked to the city. They were about two kilometres long and about 3,000 people used to travel with it. The main transport where the camels, because on their exhausting journey through the desert the animal was able to survive up to 24 days without water.
Another interesting encounter for me was to meet the ceramic master craftsman Abdullo Narzullaev. He is a hereditary master potter in the 6th generation using still the ancient techniques. He practises the world-famous traditions of the Gijduvan school of ceramics and his family preserved the old traditions. Abdullo decorates the masterpieces according to the historical patterns. So you won't find any animals on the fabrics because it was forbidden to depict them during medieval times. These ceramics are distinguished by the use of floral ornaments, often in combination with geometric patterns. He has exhibited internationally his fine artworks many times and he also offers workshops in his hometown. It was a fascinating adventure through the world of handicraft and I was impressed how important it is to the locals to keep their heritage alive and that they make sure that these traditions will survive the next generations.