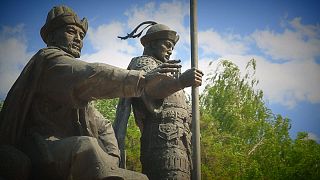 For the end of this series of Postcards from Kazakhstan we are back in the capital, where people are this year marking the 550th anniversary of Kazakh statehood.
This monument symbolises the Kazakh people's efforts towards independence, creating their own state
Key facts about monument to founders of Kazakh Khanate:
The statue depicts Kerey and Zhanibek Khan
The pair were descendents of Genghis Khan
The monument stands at a height of 12 metres
Inaugurated in 2010, it's made out of pure bronze
Astana architect Rinat Abenov created the statue
To get a feel for the history, there is no better place to start than a monument to the founders of the state, Kerey and Zhanibek.
The first Kazakh Khans, the pair were descendants of Genghis Khan.
Euronews' Seamus Kearney reported: "Inaugurated in 2010 in the old part of the city, the statue is made out of pure bronze and stands at a height of 12 metres."
Kerey, who is in the sitting position, was the first Kazakh ruler. The figure of him stands at a height of 5.25 metres and Zhanibek's height is 5.45 metres.
Astana guide Aliya Bakirova told euronews: "This monument symbolises the Kazakh people's efforts towards independence, creating their own state, and it's a reminder about the importance of history."