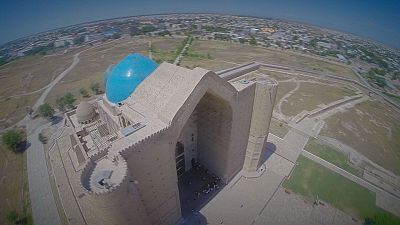 This week our Postcard comes to you from the south of Kazakhstan, from the ancient silk road city of Turkistan.
Key facts about the Mausoleum of Khoja Ahmed Yasawi:
Work began on the mausoleum in 1389
It became a

UNESCO

World Heritage Site in 2003
Yasawi was a revered Turkic poet and teacher
The mausoleum is not actually totally finished
It's 39m high and dome is largest in Central Asia
Here the spectacular Mausoleum of Khoja Ahmed Yasawi dominates the landscape, attracting tens of thousands of Muslim pilgrims from far and wide.
Euronews' Seamus Kearney reported: "The scale of the monument is impressive, standing almost as high as a 15-storey building. And the dome on the top is the largest of its kind in Central Asia."
Construction of the mausoleum began in the late 14th century in honour of Yasawi, a revered Turkic poet and religious teacher.
Local historian Nurlan Dukenbayev told euronews: "This is one of the most important religious centres for pilgrims from many different countries.
"About a million visitors come every year, from ex-Soviet countries, Turkic nations and further abroad."
"This is a national pantheon," he added, "where khans and sultans, judges, famous warriors and others were laid to rest."
Dukenbayev also explained: "During the construction of the mausoleum, craftsmen and builders transported bricks here by hand from Sauran City, which is 40 kilometres away.
"No binders were used in the construction; it was literally inter-knitted using just the bricks."
The mausoleum is protected as a national monument, and it was also declared a UNESCO World Heritage Site in 2003.