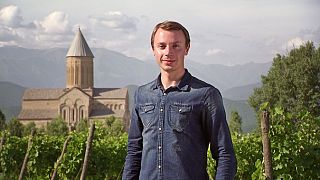 "Every village man must have a vineyard. First come your vines, then your family",- says Davit, who lives with his extended family in a stone cottage in Sighnaghi, a walled craftsmen's town in Georgia's eastern region of Kakheti. Beautifully restored in its old-age elegance, it shines from the hill's top as you approach. In good weather, a glorious background – the white peaks of the Caucasus mountain range – is revealed.
All across Kakheti, families grow their own grape vines. This cherished tradition is passed through generations, preserving all the diverse varieties of local grapes. At each house, there's a wine cellar with a kvevri – a typically Georgian clay vessel, generally man-sized, which is used to make and store wine. At the harvest time, freshly pressed grape berries are poured into the kvevri, which is buried underground and sealed with clay. The resulting house wine, as every proud Kakhetian will undoubtedly assure you, is the best in the country. It's more than a drink; it's an essential part of life.
Larger manufactures use more common technologies, making their wine in imported oak barrels. Some, like the historic Alaverdi monastery that has recently recreated its wine production rooted 1500 years in the past, use both traditional and new methods to make different kinds of the grape drink.
Driving through Kakheti, you cross picturesque valleys blooming with vines. Each of the villages you pass has its own wine variety. Special wine routes, marked by road signs, direct tourists on wine tasting tours between popular manufacturers. And wherever you go, the doors will be open and you'll be welcomed with unparalleled hospitality, for as the Georgian saying goes, "a guest is a gift from God".
Denis Loctier, Sighnaghi, Georgia