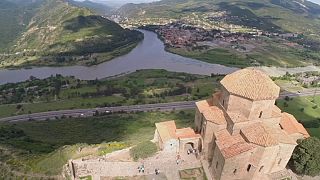 In the first of our series exploring the sights and delights of Georgia, Georgian Life, we begin our journey in the country's largest city and its capital Tbilisi.
The stunning view from the hill above the city shows a patchwork of ancient and modern urban spaces, reflecting Tbilisi's history from its foundation in the 5th century to the latest architectural achievements.
"This is one of the longest and steepest funiculars on Earth. Visitors to Tbilisi can take a ride to enjoy the breathtaking view from the top of the hill," funicular operator Emzar Badalashvili tells us.
Tbilisi's old town with its narrow streets and eclectic buildings has been renovated recently, giving it new life, with many little shops and cosy cafes.
"Georgia is trying to preserve its ancient history. Sometimes a plain stone at a corner can tell you more than a book of many pages," says Rezo Gabriadze, a Georgian artist we meet in the capital.
Emerging from the long Soviet era and the severe difficulties the 1990s, today's Georgia has reinvented itself as an open, friendly country, welcoming guests from all around the world.
One such visitor who stay is Rebecca O'Brian, who owns a pub in the city: "Tbilisi is a great city. It's very safe, it's very inexpensive by European standards. It's very possible to stay here for up to 50 dollars a night."
Rebecca's sentiments are echoed by French tourist Claude Forestier: "The people are very welcoming. We eat very well here. There's a great atmosphere. Everything's easy – it's a very open country. And also, perhaps, very European. It's a great discovery."
In this bright kaleidoscope of modern and traditional architecture, famous landmarks still teem with life.
The brick-domed Sulphur Baths have been open to public for centuries, as attendant Elcin Allahverdov explains: "This hot water comes from the natural sulphuric spring welling up 50 meters from this room. That's where the city was founded: 'tpili' means 'warm' in the Old Georgian language, so the name Tbilisi derives from this warm spring.'
Religious architecture and art remain at the core of Georgia's ancient heritage. It was one of the first nations in this region to adopt Christianity.
"This is the oldest surviving church in Tbilisi, a 6th century basilica built soon after the city was founded," says Fr Akaki as he shows us around the the Basilica of Saint Mary, of which his the dean. "Its bells were ringing even under the foreign invasions. The Soviet times were a dark page, when this building was turned into a tyre repair shop and supplies shed, but it has preserved its spirit and now serves as a church again."
Just outside Tbilisi, ancient castles, monasteries and cathedrals crown the magnificent Caucasian landscapes, bringing scores of tourists and pilgrims to the holy sites.
"This ancient heritage does give a special spirit to Tbilisi, and it's not just Christian – you can find a church, a mosque, a synagogue and even a Zoroastrian temple here, rising close to each other," says artist Guga Kotetishvili. "This diversity of cultures is a beautiful example of a land where Europe meets Asia."