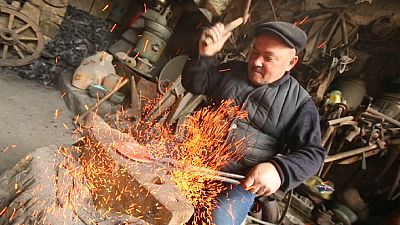 Copper has forged the history of the Azeri village of Lahic. The community, nestled in the southern Caucasus, feels much further away in time and space from Baku than it is in reality – just 200 kilometres. Lahic seems frozen in time, with the rhythm of life marked only by the sounds of hammer and anvil.
Kablemi Aliyev is a 7th generation coppersmith who owns one of Lahic's five remaining workshops. The village made its name in the 18th century, supplying the Middle East with copperware and firearms. Little seems to have changed since then. One of Kablemi's forefathers started the business in 1725 and his father initiated him in the art of copper work when he was just a child.
"There were so many people working here," said Kablemi. "There was so much noise, that we had to cover our ears. It was like a music for me".
Set in copper
Kablemi's maternal grandfather was a blacksmith, while on his father's side they worked shiny metals like bronze and copper. Kablemi now produces mainly household goods, but he keeps the history of the village alive.
"In Soviet times everyone worked in a state workshop," he said. "The state gave us a salary. Before there was nothing. Nowadays the shops are full, but there's little demand."
Every workshop in Lahic is like a little dust-covered museum. Kablemi's is no different.
"Look at this, my grandfather and my father made these," he said pointing to an array of copper objects croweded onto dusty shelves. "And these are some of the things made by my ancestors".
Lahic was originally a copper mining hub. When the precious metal was running out, locals started buying it in from elsewhere to keep their businesses going. At the beginning of the 20th century there were 120 workshops hammering out water jugs, bowls, dishes and trays, a tradition proudly showcased in the History Museum, an ancient mosque which was transformed into an "Alibaba's cave" in 1992.
One of the master coppersmiths, Nazar Aliyev, showed us the different vase styles Lahic is known for. "Here you can see objects made for household use. This vase was made to transport water from the well to the house. It can hold 15 litres and when it's full, it weights about 20 kilos".
From father to son
Copper is a family job. All Kablemi's three sons know how to work the raw material. His son, 20- year-old Agakishi, is already a master decorator. He learnt from his uncle, and represents the 8th generation of coppersmiths in his family.
With a small chisel in hand Agakishi explained the secrets of his craft: "With this tool I can draw whatever I want. With a pen I can try five or six times, but I cannot make it right. With this, I can do everything at the first try. For example I decorated this cup.Whatever a painter can do with his brush, I can do it with this tool".
Young masters have become rare here and preserving this tradition is a priority. The construction of the of copper workshops, the resources and tools used, the production process, and even the outward appearance remain as they were centuries ago.
Wandering the cobble-stoned streets, popping into quaint workshops, and stopping for cups of tea are the village's real attractions. For many visitors Lahic still represents the real Azerbaijan in a country that is changing fast.