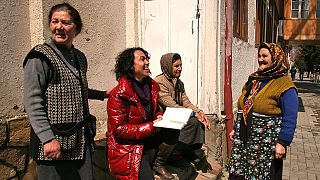 It took us about four hours to drive from the Azeri capital Baku to the Western city of Göygöl. We crossed the so-called 'desert', a vast plane surrounded by mountains that stretches for kilometres. The landscape was breathtaking. Little restaurants where you can always find freshly-made dairy products, from cheese to butter, dotted the road. The perfume of chay and pomegranates will stay with you all along the trip, like the smiles of the street vendors offering any kind of locally-grown product and home-made food.
We moved from the southern part of the Great Caucasus, to the Lower Caucasus, next to Armenia. Göygöl is a small town founded as Helenendorf (or Helendorf according to some spellings), by Germans in 1819. We came here to find traces of German culture in the region, and Göygöl was the first German colony in Azerbaijan.
We could only find the footprints of the German community, because nowadays there are no Germans left in town. The last one, Viktor Klein, died in 2007. Nearly all German settlers were deported to Central Asia and Siberia in 1941, after the Nazi invasion of Russia. Viktor was an exception. He was able to stay with his family in Göygöl only because his parents were a mixed couple, his father was Polish and his mother German.
Göygöl is still a melting pot. Here you can even find an Assyrian minority, from an ancient civilisation between the Euphrates and Tigris rivers, partially in today's Northern Iraq. Larissa is one of them and she runs one of the restaurants in town. She said that her community used to work for German settlers at the beginning of the 20th Century. The sausages she prepares every day by hand still have a German name.
Göygöl was founded as a district in 1930. It was called Narimanov until 1938. Its name was changed to Khanlar district in 1938, in honour of the oil field worker Khanlar Safaraliyev, who fought for workers' rights. In 2008 the Azeri Parliament adopted a decision on naming the district Göygöl.
German settlers also left their mark on the architecture and urban planning. Göygöl has kept its straight original urban structure. That was new at that time; Azeri roads used to have more twists and turns. Some 300 German houses are still in the town and they have been recently restored. In 1820 the settlers built nearly 90 stone houses. In 1911 the houses numbered more than 1,000.