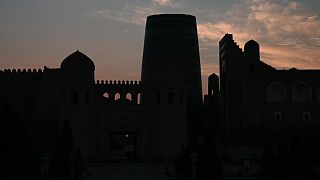 Khiva looks like a city of the desert. Its ochre colours have envelopped me since the first time I walked through the little lanes of the old city, Ichan Qala (literally 'inner city'). Nevertheless, Khiva was born "on the water", in the lower reaches of the Amudarya river. It grew up on the irrigated lands of the Khorezm oasis. Why these lands have turned slowly into a desert, has been matter of study for Central Asian historians, geographers and geologists. What I can say is that the Kyzylkum desert, about two hours away form central Khiva, is just hypnotic in its beauty and wildness.
Going back to Khiva, archaeologists consider that it was founded in the 5th or 4th centuries BC, even if the first written sources date back to the 10th century. As the first major structures were built, the city became known as trading post on the Silk Road.
Khiva is considered one of the few cities in the world where the historical building up has been preserved. Ichan-Kala is the most densely populated part of Khiva. It is home to about 3,000 people.
It covers a 26-hectare area and was built according to the ancient traditions of Central Asian town building, as a regular rectangle (650 by 400 metres) stretching from south to north and enclosed by brick fortification walls that are up to 10 metres high.
Ichan Qala is the site of 51 ancient monumental structures and about 250 dwellings. Among the most remarkable buildings, the Djuma mosque, a one-storied building with a big hall and a flat roof resting on 213 wooden carved columns. The visual impact is astonishing. Four of the columns are especially valuable as they date back to the 10th and 11th centuries. One of the best Khivan works of architecture is the Pakhlavan Mahmud Mausoleum, with its greeny-blue dome, but the most curious and unusual building – that has become Khiva's trademark – is the Kalta-minor Minaret. You won't see anything like this in Central Asia.
The minaret looks like a huge cone, and it stands out because of its light blue colour. It's imposing. And it's unfinished. One legend says that the Khan wanted the minaret to be larger and higher than anything ever built in the Khoresm region. The Emir of Bukhara heard about it, and agreed with the master to build the same in his city. Unfortunately the plan got out to the Khivan Khan, who ordered the execution of the master, who then fled, leaving the building unaccomplished. Be it legend or fact, the minaret is one of the most impressive buildigns I have seen during my trip around Uzbekistan.