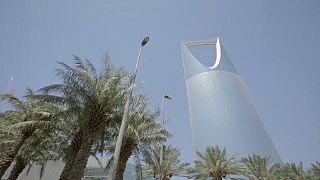 Riyadh is a city of phenomenal growth, an expanding economy and a rapidly changing skyline. Eye-catching modern developments line the roads around the centre.
But among the hectic pace of the 21st Century, you can pause – and discover corners of how life used to be in the Kingdom
It is a city that has mushroomed from 150,000 to five million people in 60-odd years. But one thing remains constant – bartering which is evident at an auction in the old market.
Under the hammer is everything from antique coffee pots to air-rifles. The auction is held in the old marketplace or 'souk' which is a relic of the past in a fast-evolving city. In Riyadh's rush for modernity, much of the old town was lost.
But recent decades have seen a renewed interest in the city's architectural heritage, and outstanding examples are now carefully preserved.
Among them is Masmak Fort, where King Abdulaziz, founder of modern Saudi Arabia, first staked his claim to power. Meticulously restored, the fort is now open to the public.
Mohammed Al Zarah, a local visitor, explained why he likes the site: "From time to time I come and bring my kids along with me so that they see the history and appreciate the efforts. At least they will start thinking what they should do for their future."
Another survivor is the original palace of the king, now the centerpiece of an historic district which includes the National Museum.
"We have ignored our history, we have ignored enough of our traditions, and now it's time to go back and refurbish it and bring back as much as we can, bring history back to that part of the city. It doesn't mean that you should have it as a museum that you can't touch, no you have to refurbish it, in the sense that you keep the old in sync with the modern needs," explained Faisal Al Mubarak, Professor of Urban Planning.
During its rapid expansion of the mid-20th Century, Riyadh developed along American lines with sprawling blocks set between grid-like streets. Planners viewed the car as king.
"I think that this is an international problem. There is a sudden jump from the compact traditional city, and only when the city grew, then we realised that this is not what we wanted to have," architect Ali Shuaibi pointed out.
In the 1980s the Arriyadh Development Authority began a series of large-scale projects designed to 'humanise' the city, with car-free plazas, green space and architecture that better reflected the culture and the climate.
"Sometimes people don't know what they want. You have to experiment, then listen to people, see how they react to it. So the first few experiments showed us how much people craved public space. Now I think Riyadh is becoming a very rich city for people to live in," added Ali Shuaibi.
Now, the car's status in a congested city is set to be challenged. A new metro system with six lines, covering 176 kilometres, is being built from scratch, to take the strain off the roads.
"This project I think will change the whole lifestyle of the people. Because the project will be a very good organiser of their life and their activities. When you're using your car you don't know when you're going to arrive. So you are saving the time of everybody," said Abdulrahman Alshalan, Director of Transportation with the Arriyadh Development Authority
The futuristic metro stations will take their place alongside Riyadh's iconic buildings like the 99-storey Kingdom Tower.
In the shopping centre on the lower floors, you can buy anything from electronics to perfumes to a one million euro diamond. There is also the chance to take in a stunning view.
At the top of Kingdom Tower, you can get a real sense of how Riyadh has developed, and how it continues to look to the future.