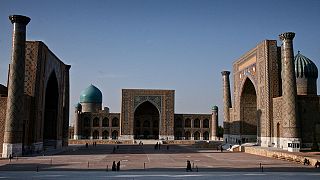 Samarkand is one of those legendary places that takes you back in time. I was very curious before going there. I remembered my childhood studies of the merchants' fascinating trips between Europe and China. I thought of the Italian merchant Marco Polo, who went there something like 800 hundred years before me, writing all his incredible adventures in his book "Il Milione".
Samarkand today is the third city of Uzbekistan and all the remains of those ancient times are scattered all over the city. The most incredible place to me was Registan Square. It means "Sandy Place" and in Medieval times it was the busy commercial centre of the town. It is breathtaking. These three imposing buildings standing in front of one another, are among the world's oldest preserved medressas. What really struck me, apart from the meticulous work and the dominating tones of blue was that, looking carefully, you could hardly see a straight building. In our computer designed world, that made me think of how hard it was to erect such majestic edifices in ancient times. How much technical knowledge was needed and how much time and adversities can take their toll on these unique buildings.
This is why I decided that our report had to focus on the daily delicate and incredibly detailed hard work of restorers, something that tourists don't usually see or might not be aware of.
If you love history and architecture, or simply if you are a genuinely curious person, you could spend weeks around Samarkand's monuments. Thanks to restorers' continuous work, maiolicas and mosaics are brought back from the past and delivered as they were hundreds of years ago.
If you look carefully, you also realize that these facades are talking to you like giant open books. Many of the patterns reproduced on the walls are in reality words, and every flower, vase or leaf, is an ode to Paradise and eternal life.