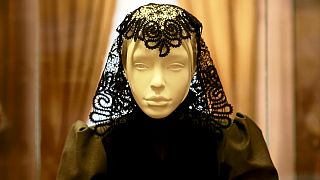 When visiting Russia it is often well worth it to explore some of the many specialised museums.
Key facts about the Vologda Museum of Lace:
Opened in the autumn of 2010
1500 m2 of exhibition space
Lacemaking classes also offered
Near picturesque Vologda Kremlin
Vologda lacemaking goes back centuries
Take the lace museum in Vologda, for example, 470 kilometres north of the capital.
The unique lacemaking techniques on display go back centuries.
Euronews' Seamus Kearney reported: "There's everything from elegant wedding dresses to wall hangings, and even items made out of black lace for men."
Yulia Evseeva, head of the Museum of Lace, showed the Postcards team around the museum. She explained: "To avoid the lace stretching we have a special electronic system where panels containing the lace are raised up every week, so the lace can rest."
The museum also offers classes to ensure lacemaking is passed on to future generations.