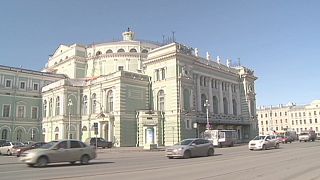 In this series, we will be discovering the most amazing places in the largest country on Earth, where life sometimes resembles a theatre – and a theatre can tell a lot about Russian Life.
At St Petersburg's Mariinski Theatre, there is rehearsal every morning. With more than 150 years of opera and ballet performances, the world-renowned theatre is a celebrated symbol of Russia's northern capital.
"I can't imagine St Petersburg without the Mariinsky Theatre, as I can't imagine this theater anywhere else but in St Petersburg. The two are the same," says tenor Yevgeny Akimov..
Production designer Isabella Bywater is enchanted by the city:
"I've done a lot of walking around St Petersburg, and it's beautiful, it's melancholy, it's dirty, and I love it!"
"This is my home theatre, this is my home city. The Mariinsky is my life!," says prima ballerina Diana Vishneva.
Founded in 1703 by Peter the Great, Saint Petersburg sees itself as Russia's cultural capital.
Tradition is kept alive at the Mariinsky Theatre with its constellation of opera and ballet stars, producers and designers.
"We try to make everything by hand, because that really allows you put your heart into your creation," says Ludmila Mekhonoshina, head of the stage scenery art department at the Mariinsky Theatre.
Curtain sets and other scenery are made in the rooftop hall before being lowered onto the main stage, where masterpieces by Tchaikovsky, Mussorgsky, and Rimsky-Korsakov were premiered.
"This is the theatre where Russian opera was born and thrived. It's like La Scala for the Italians – a stage that's a focal point for everything great – that's what the Mariinsky Theatre is, not just for St Petersburg but for Russia as a whole," says stage director Vasily Barkhatov.
Factfile: Saint Petersburg
Founded by Peter the Great in 1703 as Russia's "window to Europe", Saint Petersburg was the nation's capital from 1713 to 1728 and from 1732 to 1918. During World War I, the city was known as Petrograd; from 1924 to 1991 – Leningrad
It remains Russia's second largest city after Moscow with almost 5 million inhabitants
Designed and built largely by European architects, Saint Petersburg is known as Russia's most westernized city and its cultural capital
It's the home to more than 200 museums – including the Hermitage and The Russian State Museum, with some of the most significant art collections in the world
Mid-June is peak time for "white nights" – a natural phenomenon of never-setting sun, celebrated with massive festivals, concerts and parties
In the wardrobe department, they are never short of work – creating stage costumes for up to a dozen premieres each season.
Many foreign designers come to Saint Petersburg to see their creations come to life. Isabella Bywater is one of them:
"I've worked in places where nobody cares about production anymore, because it's just like factory producing. We produce a lot of works, but I never feel like I'm working in a factory. There's a kind of unembarrassed enthusiasm for creativity, which is a real joy," she says.
By the evening, the stage is set for another performance.
"Boris Godunov", an opera by Modest Mussorgsky based on Alexander Pushkin's tragedy, has been running here since the 19th century.
For this new production, British director Graham Vick sets the classical plot in modern Russia, contemplating decades of turbulent power struggle, social injustice and brutality following the collapse of the Soviet Union.
"Well, it actually does look like that from abroad. Whether we like it or not. This is how we, Russians, are today," says bass-baritone Yevgeny Nikitin.
As the golden age of Russian culture keeps shaping its national identity, its classical heritage remains as pertinent as ever.
"Human nature doesn't change that much: it's the same today as what it was three centuries ago. Power, vanity, greed. History is always repeating itself," says baritone Alexei Markov.
Join us for the next edition of Russian Life from the Caucasus Mountains.