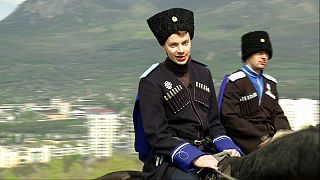 Denis Loktev – Pyatigorsk, Essentuki, Stavropol
After the last year's Russian Life series – on Solovki, the Urals, Lake Baikal and the Volga – was praised by viewers and colleagues alike, we decided to continue our journey exploring other parts of the World's largest and one of its the most diverse countries. The Stavropol Krai was chosen as our season opening destination, with an ethno-cultural angle: this area, a part of the larger North Caucuses, is one of the centres of a Cossack revival movement – a bright and colourful introduction of modern Russia returning to its pre-revolutionary roots.
Stavropol Krai, a geographical area as large as Ireland, is mostly famous for its mineral water. Resort cities such as Pyatigorsk and Essentuki, relying on almost no heavy industry but plenty of healing springs, have always attracted tourists – mostly from other parts of Russia and the former Soviet Union. The growing Cossack movement is becoming another attraction, with local history museums opening permanent exhibitions on Cossack heritage, distant villages preserving traditional Cossack lifestyle in cottages open for visiting, and new churches and monuments erected everywhere perpetuating the Cossack heroes' memory.
The ethno-cultural movement itself, very determined and seemingly sincere, is striving to find its place in the country that is very much unlike the pre-revolutionary Russia. Cossacks get involved in the local and national politics, pushing for a conservative turn towards more traditional values and limited social liberties – a goal apparently shared by the Russian Church and the political establishment. The impressive demonstrations of horse riding, firearms and martial arts mastery, the large-scale education and training of new recruits, the military discipline coupled with an orthodox religious worldview raise questions on the role this movement is yearning to play in 21st century Russia.