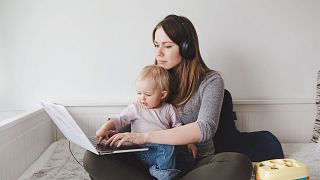 -
Copyright

Getty via Canva
It has been over a year since COVID-19 spun workplaces into a frenzy sending entire workforces to operate from their homes.
Some employees have not missed the commuting times but others are craving the water cooler chats with colleagues.
Watch the first panel of Euronews' new Disrupted series in the player above. We speak to experts to get their insights on what the future holds for work.
The European Commission found that in 2019, just 5.4 percent of employees in the European Union worked from home. Now that figure could run as high as 88 percent.
For employers, questions have arisen on productivity, maintaining a team spirit and ensuring that employees are kept happy and healthy.
Trust and blurring the work/life balance
Trusting employees to be as productive when working from home was a concern for bosses but the pandemic has squashed that concern.
"I think that the way the staff has responded to these challenges demonstrates that it really needn't impact on productivity and the work ethic can be just as strong from any location as it can be from the office," said Ben Butters, CEO of Eurochambers, the European association of Chambers of Commerce & Industry.
But he warned that as some employers are working even harder from home than in the office there is a "blurring of lines between private and work balance".
Working longer hours from home has also become the new normal, according to the business support company NordVPN Teams. 
In a report first published by Bloomberg, it said workers in the UK were logging in for 11 hours a day compared to 9 hours before lockdowns sent them working from home. France, Italy and Spain were also working an hour extra. 
**Human contact **
Another issue is workplace conditions. While many employees have enjoyed the benefits of being able to spend more time around their families, it is a different story for young employees, who are often living alone and in cramped conditions. 
"We as humans do crave that physical contact and things like innovation to be together in a room to have that social contact... is going to be important and that is the fundamental of human nature," said Tim Good, managing director of tech consulting firm Accenture. 
"If I look at some of my team and especially some who are new entrants into the workforce, they've had to live through this in small apartments, they've perhaps had to have a discussion every morning with their flatmates as to who works in the bedroom and who works in the kitchen," he added. 
"They want to come back and they want that social contact."
Happy and productive workers
Research has highlighted that those affected by the pandemic, which is almost everyone, have seen increasing mental health issues such as stress, anxiety and depression.
But it is not just due to lacking workplace social interaction and there are so many important psychological factors, said DR Katia Vione, a psychology lecturer at the University of Derby, who has been researching new ways of working.
She said while some people may prefer working from home and others in the office, the important factor is allowing employees the opportunity to be involved in talks on how they want to work. 
"I think there will be some push including being in the conversations we have at work and people having the space to say I need things to change a bit so I can achieve this work/life balance," Vione said. 
"It's a cliché but a happy employee will be a more satisfied and productive one."
**Older generations and digital nomads **
So-called digital nomads work anywhere in the world and are often much younger employees with a firmer grip on the technology. While for some older workers, remote working can be more difficult because of the reliance on digital tools.
But this is not always the case and it should be up to companies to ensure workers can use the technologies, argues Kasper Pöyry, CEO of software company Gapps based in Finland.
The company's work culture embraced location-free working long before the pandemic struck.
"Some people will embrace (technologies) more than others regardless of age," Pöyry said.
"And there lie the responsibilities for the companies to accommodate that and that's where I think it's about making technology easy to use and access and not just leaving it to technology and letting people figure it out, but rather really communicate, discuss and work out what are the ways of working."
Partially working in ghost towns?
With a number of people swapping cities for the countryside, it may have an impact on the cityscapes.
But it is unlikely to cause a "ghost-town" effect said Butters, adding that instead, offices could become smaller and companies could share space instead.
He said while this could save businesses money in the long-term, in the short-term European companies have still had to pay for office space and facilities for remote working.
But an advantage of the pandemic, Butters Said, is that companies are more aware of their social and environmental impact.
"Remote working can contribute (to the environment) in that we'll have fewer people commuting and hopefully a better work/life balance."
Butters predicts the future will see a hybrid of working from home and in the office.
"People need physical interaction...It makes them happier, it makes them more productive, it makes them more innovative, it makes them more creative."
Meet our panelists:
Tim Good, Managing Director, Strategy & Consulting, Accenture, based in Frankfurt
Originally hailing from the University of Oxford, Tim Good has fostered a lengthy career at Accenture. He is often called upon to share his perspectives on the HR implications of reshaping the workplace. He also leads the company's Talent & Organization practice in Europe, working closely with business executives around the world to design talent and HR strategies, creating workforce experiences that engage and inspire.
Kasper Pöyry knows firsthand how Helsinki's work culture embraced location-free working long before the pandemic struck. Software company Gapps has operated under a long-term flexible working policy and there are no signs of this changing. A self-described "Excel warrior" at university, he joined Gapps as a graduate in 2013 looking to solve the problem of how digital work should be done in the modern world. After taking them from a "tiny startup" to a leader in Finnish software innovation, he was appointed CEO in 2018.
Dr. Katia Vione has spent much of the past year researching New Ways of Working (NWW) during the pandemic. Her work has identified that remote and distance working can help engagement, flow and connectivity among staff, but can also increase blurred work-home boundaries, fatigue and mental demands. Outside of her research on workplace wellbeing, she uses her field to explore other aspects of social psychology such as social perception and decision making.
Ben Butters was appointed CEO of Eurochambres, the European association of Chambers of Commerce & Industry, last year after 12 years of service. He has decades of experience in representing business interests towards the EU institutions, with a strong focus on small & medium sized enterprises. Before joining Eurochambres, he created, and for several years, ran his own business providing EU advocacy support to small business associations.
Moderator
Damon Embling, Euronews
Damon is a seasoned broadcast journalist, with more than 20 years of professional experience, gained in the UK, across Europe and globally.
At Euronews, he regularly produces and presents programmes, with a focus on business, travel and tourism, and technology. He also represents the media organisation as a moderator at major global trade events, including ITB, WTM, CES and ITU Telecom World.
During the pandemic, Damon has been producing and moderating a variety of virtual debates on topics ranging from health to nation branding.