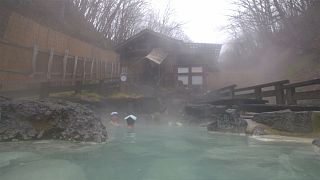 The display of autumnal colours of the Rising Sun country, its captivating nature, its culture of delicacy and elegance, seduce those who set foot on this island. Its beauty and its hospitality have made Japan one of the most important destinations for international meetings.
Can you imagine attending an international conference in an onsen, a heavenly thermal spa like this one? We've travelled to Yamagata, in the northwest of Japan, to discover how its organizers have managed to combine work and relaxation following the Japanese bathing tradition.
The volcanic origin of the island makes it a kingdom of thermal waters with more than 3,000 natural springs. You enjoy them in the traditional ryokans, with its details, architecture and hospitality which immerse us in this millenary culture.
Takashi Abe, Director of MICE Onsen said, "Onsen hotels have tried to adjust their facilities and prices to similar venues and organizers have tried to create something that will be appreciated by foreign customers".
Health benefits of an onsen
Today, this ryokan is hosting a medical conference with more than 350 participants. Graham Gomersall, from the United Kingdom, is one of them. After a day of intense work - dressed in his "kimono", as tradition dictates - he enjoys the opportunity to relax.
"At the end of the working day, you get this opportunity to come back and properly relax. I don't think I've ever felt a sensation quite like the thermal spas, the onsens and these type of hotels, it just finishes the day off perfectly," he said.
But it's not just a matter of relaxation. These volcanic waters are an important source of well-being, according to Toshiko Nakamura who is a doctor participating at the medical conference.
Doctor Nakamura said, "They're very hot so it expands your blood vessels and you can relax. There are a lot of minerals in the onsen, like sulphur, salt and others which are good for your health. In fact, the best effect for the body balance is that the water is at 38 degrees".
Another important issue for onsen culture is the cuisine. The traditional restaurants parade a variety of carefully prepared dishes together with the traditional drink based on rice: sake.
Translation software for multi-language conferences
We travel to Tokyo to learn about an impressive simultaneous translation software. Finding interpreters or placing translation booths in a spa area is not easy. Professor Hiroshi Isahara from the Toyohashi University of Technology has developed a tool to facilitate translation for conferences.
"The machine translation research has a long history but its performance didn't develop until 3 years ago when a new neural network system was created. This system transcribes what we say into text and that text is then translated into different languages" Professor Isahara said.
Thanks to AI we can hear this conference in our own language, in real time on our devices. Microsoft, the promoter of this technology, the Japanese Translation Council and Toyohashi University are all working together to improve this software. It's cutting-edge technology for Asia's destination for international conferences.