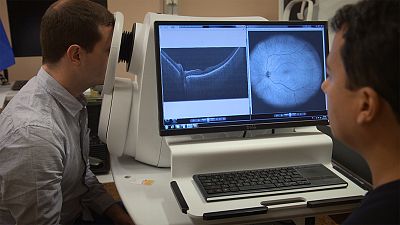 The Vienna General Hospital - Austria's biggest - routinely treats dozens of eye patients a day in its department of opthalmology.
And one disease comes up again and again: aged-related macular degeneration.
Last summer Barbel Langer, a former psychotherapist, was diagnosed with it.
At 79 years old, the part of her eyes needed for sharp, central vision, had degenerated.
"I noticed that when I read close up, in a book or in a newspaper, I could see less and so I turned to a hand lens for help. When it was very difficult, I read with the hand lens," she told Euronews.
Macular degeneration could affect up to 196 million people around the world by 2020.
It is one of the most common causes of blindness - and yet there are often no symptoms early on.
"The disease is very difficult to diagnose, especially in the early stages, because it takes place on a very small part of the retina, the macula is just about one millimetre in size," Ursula Schmidt-Erfurth, a professor of Opthalmology at the Medical University of Vienna, told Euronews.
"This makes it all the more important to detect as early as possible when the vision is still good."
Now scientists from a European research project are developing a new technique to diagnose it more quickly - which could also lead to new treatments.
Their approach relies on three very complex optical technologies which will allow doctors to literally see what's inside the patient's eyes - at the molecular level.
"The technology is aimed at providing similar non-invasive images as the ones we already have, but with much, much better resolution," Matthias Salas, an electrical engineer at the university, said.
The optical technologies involve using a Raman spectroscope, Optical Coherence Tomography and fluorescent imaging.
But since eyes are so sensitive, the main challenge is ensuring they're not damaged.
"The big advantage of the method is that I don't have to touch the eye, I can just take light and scan the eye with light and measure the light coming back from the eye, and the light coming back from the eye contains all the information I need for a diagnosis," Rainier Leitgeb, a medical physicist at the university, said.
Since eyes are a useful window into the brain, the technology could also be used for the early detection of other diseases, opthalmologists say.
"The human retina changes very little in the course of life, if there are changes, they are the result of diseases," Schmidt-Erfurth said.
"Neurological diseases can also be seen in the nerve layer of the retina, such as multiple sclerosis, Alzheimer's disease. All changes that affect the central nervous system can also be seen in the retina."
Once the technology is ready, it will be tested in a clinical trial involving around 100 people, some healthy, and others with macular degeneration and Alzheimer's.