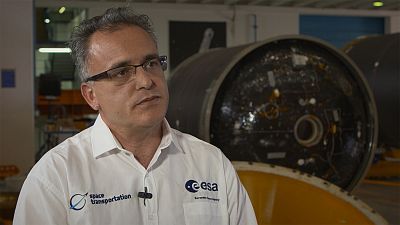 We take your questions about the universe and put them to the experts using the hashtag Ask Space.
This week we put your questions to Giorgio Tumino, Vega Development Programme Manager at the European Space Agency.
Can rockets be reused?
Veronica Remonidi asks:To what extent are we introducing the concept of re-usability in rockets in Europe?"
Giorgio Tumino: "We are already working on re-usability in Europe, an in particular in ESA for several years. I go back to the successful mission performed by Vega on the fourth flight with the IXV reentry technology demonstrator where we have tested in flight all the critical reentry technologies. And in addition in the longer-term perspective when we talk about Vega E and the development we are doing with the LOX Methane engine, which is intrinsically re-usable, we could think as the longer-term picture to bring down not only the re-entry module, but also the orbital service module, so the complete stages to be re-launched for the next flight."
Ed Bertony asks:Are there are any alternatives for combustion for rocket flight now?
Giorgio Tumino: "There are motors that more efficient than those using chemical propulsion, and I refer here to nuclear propulsion, solar thermal, electric propulsion and even more futuristic like laser propulsion, solar sails, and so on. The problem is that they lack thrust. And when you want to lift off from ground, going against the gravity, then you need a big thrust, and the big thrust can only be given by chemical propulsion. Therefore, for space rocket applications I see them not applicable today."
Send us your questions about the universe using the #AskSpace hashtag and we'll try to answer them, and you can follow other space news on Euronews.com.
​