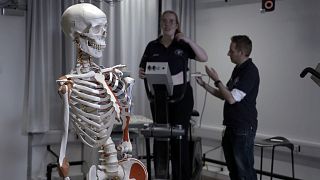 Astronauts have an out of this world job. They see sunrise and sunset 16 times a day, and over the weeks and months in orbit their bodies change inside and out. They lose muscle mass and bone mass, and many aspects of their health are affected.
As ESA astronaut Luca Parmitano tells Euronews, they dedicate themselves to science: "We don't go at all for the view or for the beauty of it. We are not tourists. Career astronauts go there only for the science, the technology, and of course the maintenance on the space station."
We begin our investigation into health and space in Berlin, home to some of the most intriguing ongoing studies on astronaut health.
Researchers at Charité – Universitätsmedizin Berlin have developed a unique new head-mounted sensor to monitor astronauts' core body temperature.
Dr Hanns-Christian Gunga, Professor in Physiology, explains: "We want to have the temperature in the brain, because the brain is the most important organ - not only for the astronauts, but for everybody."
The surprise finding is that astronauts - who exercise every day - have a higher core body temperature in space than on the ground. Nobody can explain why.
It could impact everything they do, as Professor Gunga explains. "The brain is very vulnerable to any changes in temperature. Your time of recognition and to follow things, for example, or to make cognitive decisions - you have to have longer time for it if you have a higher temperature."
As the astronaut study continues, Professor Gunga is also adapting the head-mounted temperature sensor for users on Earth, ranging from firefighters to post-operation recovery rooms.
He sets out why health innovations for space are so useful on the ground: "We need equipment which is non-invasive, which is easy to handle, which is light, which is robust, which is battery driven. All that stuff it's developed in space for astronauts."
A space solution for back pain?
​Floating in space may feel like a dream, but it's not without its problems. Over half of astronauts complain of back pain, something half the Earth's population can relate to too.
"I certainly felt my spine elongating in orbit, because the muscles were constantly contracting," confides Parmitano. "I could feel a lot of pain in my back. Coming back it's the opposite. Simply the muscles in the back, the fine muscles around the spine, are not as strong coming back, because it's really hard to train those muscles."
​The solution to that problem could be on its way from Northumbria University in Newcastle, northern England.
The team at the Aerospace Medicine and Rehabilitation Laboratory believe they've found a way to stimulate the muscles around the spine, using a converted exercise device.
"So at the moment we've got our participant Kirsty, she's exercising on our Functional Readaptive Exercise Device - we like to shorten that down to FRED. FRED is all about training and recruiting the deep spinal and postural muscles," says Andrew Winnard, Lecturer in Biomechanics.
​The seemingly simple movement of the hips, legs and feet in a circular motion is actually very tricky to master, because the resistance mechanism has been taken out of the machine.
Professor Nick Caplan explains: "Because there is no resistance to movement as you would see in a normal cross trainer, Kirsty is actually having to work against or generate her own resistance in her legs. So as the front leg tries to fall downwards under gravity, the rear leg has to try and resist that motion of the front leg from falling down."
The team now wants to send a similar machine to the ISS for astronauts to test, while they're also trying it our with back pain sufferers in Newcastle.
"So all the work we're doing here on the FRED we hope will also apply to speed up rehabilitation for anyone that has low back pain through sedentary work poor desk posture, that sort of thing," says Winnard.
​
For two decades the ISS has offered astronauts a permanent home in space. A lot of innovation has followed, including in telemedicine - providing healthcare at a distance.
At ESA's technical heart in the Netherlands, engineer Arnaud Runge shows us a telemedicine prototype that allows a doctor to direct the Space Station's ultrasound machine from Earth, using a robotic interface.
"The idea is that the astronaut is able to put this tool in position on their body, at the spot where they want to look and get an image. And the remote doctor uses the joystick to control the movements of the ultrasound and to put it into the position that he needs to get the image he wants."
Astronaut make perfect patients for testing
Health-related research in space covers a huge range of areas, from cognition exercises to new pharmaceuticals.
The astronauts themselves are the perfect combination of volunteer patient and scientific assistant.
"We know what they eat, we know what exercise they do, very accurately, we know their sleep patterns," says Professor Caplain. "So because of that we have a controlled population without the confounding factors that you typically see across a general population here on Earth."
Of course space is special, and the same thing that makes astronauts bones and muscles grow weaker, and is responsible for changes to their cells and organs, also makes for revealing experiments.
"There is one thing that it is impossible to eliminate on Earth, and it is the acceleration towards the centre of the Earth, gravity," Parmitano tells Euronews. "In orbit we can do science removing that specific acceleration. And so even though it is the same science, the results are always going to be different."
Those results teach us a great deal about human physiology; lessons which should filter down to us Earthlings too, according to ESA's Runge: "The technologies that will keep astronauts in good health on missions to Mars will be the technologies that our children and grandchildren will be able to use."​
Humans may not have evolved for life in orbit, but learning to live up there helps us learn more about staying healthy on Earth.
​