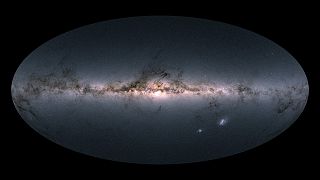 "Just like that, boom, we have an answer!" - the smile spreads across astronomer Frédéric Arenou's face as he describes the latest data release from ESA satellite Gaia. It's fair to say that science has been waiting for centuries, or even millennia for such a detailed survey of the Milky Way, and right now star-gazers are swamped with fresh, high-quality data that they can use to answer every question about the galaxy they ever wanted to ask.
"Something has perturbed our Milky Way galaxy. We don't yet know what"

Gaia Project Scientist, ESA
1,692,919,135 stars
On 25th April the Gaia consortium released its second and most significant round of data, revealing the position and brightness of 1,692,919,135 stars.
The Observatory of Paris' Arenou makes the case for the mission very simply: "At the moment we really don't know the Milky Way very well. We don't know the number of arms in our galaxy, or where stars form. Gaia will tell us."
It's hoped Gaia will tell us a great deal. The ESA space telescope's catalogue of 1.7 billion stars means it is offering astronomers 10,000 times more measurements than the Agency's previous sky-mapping mission, called Hipparcos.
It's a pivotal moment in astronomy. "All of a sudden we have a huge sample of objects for which we have their distance, so we know their intrinsic luminosity. And from their luminosity we can deduce their physical properties, the ones we tried to extrapolate with other methods beforehand," explains Arenou.
The Observatory was a fitting setting for the press event to mark the release of the data, as here in 1887, began a major international effort to map the sky, called La Carte du Ciel. Deeply time-consuming, it generated many intricate star maps but was never satisfactorily completed.
A billion pixel telescope​
Today, astronomers have Gaia, a billion pixel telescope rotating quietly in a calm spot in space called Lagrange Point 2. Chantal Panem, who works for French space agency CNES and led the immense data processing project, explains more: "Gaia is one point five million kilometres from Earth, and it is aligned on an axis of Sun-Earth-Gaia. It rotates about itself every 6 hours, with movements that mean that it's able to observe the entire galaxy - and so in a few years we have a complete map of the sky."
​"There are three instruments. An astrometer, that allows you to measure the positions. A photometer, which is used to measure the colours, and then a spectrometer, which allows us to measure the radial velocity - radial velocity is the speed at which the stars move away or towards us."
​The resulting map is the best image we've ever had of the Milky Way. Gaia Project Scientist at ESA, Timo Prusti, stresses that the images we see are not simulations or 'artist's impressions', but real representations of the satellite's measurements.
"​What do we see? We see a flattened structure, that's our Milky Way. That's the Milky Way disk," he says. "We have some dark patches on top of it. What does it mean? It means that there we see less stars. There are more stars, but there is dust in front of them, and that's why we don't see the stars."
How many arms on the Milky Way?
​Studying the data, the astronomers are able to peer into the darkness, and see things they hadn't expected.
​"We think our Milky Way galaxy is a disk, with a spiral structure, everything beautifully rotating around," says Prusti. "But what we see already with this Gaia data release, we see that the stars, a little bit further from our Sun, they don't actually behave as regularly as we anticipated. They are disturbed, something has perturbed our Milky Way galaxy. We don't yet know what. But I can see a lot of studies will be concentrated on this specific aspect.
​Having the ability to study our galaxy's history and future from within, from a vantage point inside the Milky Way, is promising a great deal of discovery in all areas of astronomy.
​Francois Mignard, from the Observatory of the Côte d'Azur, and one of the founding fathers of the Gaia mission, is hoping the fresh data on 1.7 billion stars will help solve one of the big questions - how many arms does our spiral galaxy actually have?
​"There are all the ingredients with this (Gaia) data release with the motions and the distances to study the arms (of our galaxy)," he says. "But not only are there arms or not, but also are the stars in these arms different? Were they born at the same time? Do the arms have a unique history. Are the arms the result of a merger with an external galaxy? It's these questions that people are going to try to answer, and the Gaia data is absolutely fundamental for this kind of study."
​Astronomy has come a long way in a short time. A century ago we had to stare at the sky from Earth, and now we have space telescopes scanning the heavens day and night. Gaia sends down data 11 hours a day, using up a huge chunk of ESA's ground station time.
Nothing is fixed, everything moves
These precision measurements have allowed us to begin to grasp the immensity of the Milky Way, and to draw one important conclusion. Those stars may look still in the night sky, but they're not.
"Nothing is fixed, everything moves!" exclaims Frédéric Arenou. "The Earth is turning around the Sun at 30 kilometres per second. That's 100,000 kilometres an hour. And then the solar system itself moves around the galaxy at 230 kilometres per second. That's massive. And our galaxy itself is in a 'local group', and it moves in this local group at 60 kilometres per second. And the local group travels at 600 kilometres per second, that's about 2 million kilometres per hour. That's huge. EVERYTHING IS IN MOTION!"
That's true for the astronomers too. As soon as the Gaia data was released they were digging into it on their laptops, eager to get a view of the celestial bodies that they had been theorising about for so long. This release gives them the raw material of discovery for decades to come. Meanwhile Gaia will keep on working, with more data releases due in 2020 and 2022.