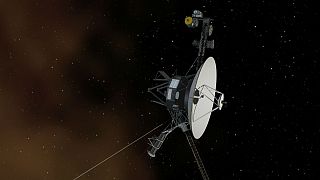 NASA scientists are celebrating after firing a spacecraft's thrusters nearly four decades since they were last used.
They wanted to reposition Voyager 1, which, at 21 billion kilometres away is the space agency's most far-flung spaceship.
Until now special control thrusters were used to alter its direction, but the 1970s-made technology has been wearing out.
So NASA's plan B was to fire up its four back-up thrusters, on the rear of Voyager 1, for the first time since 1980.
Engineers say the back-up thrusters - more used to being fired continuously - worked just as well in short bursts to reorient the spacecraft towards Earth.
"We got more excited with each milestone in the thruster test. The mood was one of relief, joy and incredulity after witnessing these well-rested thrusters pick up the baton as if no time had passed at all," said Todd Barber, a NASA propulsion engineer.
Voyager 1 and 2 - both launched in 1977 - have been exploring farther-flung planets in our solar system.
They have made discoveries such as active volcanoes on Jupiter's moon and the intricacies of Saturn's rings.
Voyager 1 left our solar system in August 2012 and entered interstellar space and is sending data back through NASA's Deep Space Network.
"With these thrusters that are still functional after 37 years without use, we will be able to extend the life of the Voyager 1 spacecraft by two to three years," said Suzanne Dodd, Voyager project manager.
NASA says the test went so well it will try a similar switch on Voyager 2, which is set to enter interstellar space in the next few years.