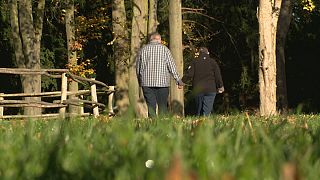 It affects more than 40 million people worldwide.
Early diagnosis is essential.

Alzheimer's patient carer
Memory loss, language and behavioral disorders – the symptoms of Alzheimer's are well known, but it sometimes takes years before the disease is formally diagnosed.
What will it take to find a breakthrough in Alzheimer's? We need to make progress in these five areas… pic.twitter.com/ukKORUYcLm

— Bill Gates (@BillGates) 14 novembre 2017
For the relatives of people suffering from Alzheimer's, it is crucial to act early to combat this neurodegenerative disease, which has no cure. Researchers in Europe are working on ways of diagnosing the disease earlier on to slow down its progression and possibly even find a cure.
Edmond Van Eeckhout is a carer: he visits his wife Annie, 73, every day in the care home where she lives in the town of Sint-Truiden. Annie was diagnosed early, at the age of 62.
"Early diagnosis is essential," he says. "If you can diagnose the disease early on, you can take all the necessary measures, whether it's medication, the future – your future as a couple – and you can seek solutions, something that isn't possible if you wait too long and the disease has reached an advanced stage."
At the European Commission's Joint Research Centre (JRC) in Geel, research is moving forward on a tool aimed at improving early detection of the disease. The work is focussing on biomarkers – the molecules that reflect the brain lesions characteristic of the disease. Particular attention is paid to small proteins called beta-amyloid 42. The scientists are developing what is known as reference material.
.euronewsknwldge</a> filming at <a href="https://twitter.com/EU_ScienceHub?ref_src=twsrc%5Etfw">EU_ScienceHub Geel site today: #Futuris episode on #Alzheimer#ReferenceMaterial will air on 20/11 pic.twitter.com/eQIhZ4K9jO

— Elke Hanssens (@ElkeH1) 7 novembre 2017
"In people that have Alzheimer's disease, the cerebral spinal fluid that surrounds the brains changes and the level of this biomarker Abeta42 changes. So when we measure this biomarker in cerebral spinal fluid, it will give us some information about the brain of this person," says biochemist, Ingrid Zegers.
"So what we do is we produce a reference material that is really like an anchor point for the value of our analyte of interest, that in vitro diagnostic companies use to set the scale of their test kits. And they then provide these test kits to the university or hospital laboratories that do the measurements. And they will then obtain results that are comparable between them and over time".
It's taken six year of international collaboration to achieve this.
Standardizing tests is crucial not only to facilitate early detection but also to develop possible treatments. Clinical tests are currently underway for new drugs.
Kaj Blennow is professor of neurochemistry and head of the Clinical Neurochemistry Lab at Sahlgrenska University Hospital in Gothenburg, Sweden: "They (treatments) are mainly aimed at Beta-amyloide agregation of this peptide into plaques that is believed to damage the neurones. And they are being tested today in late stage clinical trials with promising results," he tells us.
Kaj Blennow: the route to biomarkers and the Söderberg prize – The Lancet Neurology https://t.co/anLTvJZ4Dr#Alzheimer

— Jan Marcusson (@JanMarcusson) 11 juin 2016
"The day we have a new type of drug, that we call "disease-modifying drug", that will really make the disease better or stop the progression of the disease, we need diagnostic tools that we can trust and also that you can compare between different countries and different labs within the same country," he adds.
While the work on biomarkers is progressing, fueling hope of healing or at least slowing the progression of Alzheimer's Disease, much uncertainty still surrounds this research effort)70014-6/fulltext aimed at one of the greatest challenges of the 21st century.