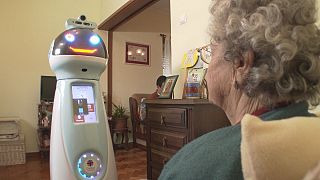 Seventy-nine year old Isabel Neto shares her home with Hugo, a robot that's been designed to improve the quality of life for elderly people living alone. How, and to what extent, is that possible? We're in Portugal to find out.
The service robot is designed to be autonomous and navigate around domestic environments. It can also detect, recognise and track humans and objects.
#Robots, apps, #wearables- top EU projects are showing their solutions for active & healthy #ageing at #AgeingSummithttps://t.co/jKCNj7qAFHpic.twitter.com/5Jn2Re92mM

— DigitalSingleMarket (@DSMeu) December 7, 2016
Ten years ago, Isabel suffered a stroke.
She thinks the robot can eventually be useful for her.
"Nowadays I feel more or less fine; I have all my faculties," explained Maria Isabel Mendes Neto. "But I will get older, and maybe more senile; I could for instance lose my glasses. And it would be nice if I could ask the robot to look for them. That would be really helpful to me."
GrowMeUp
Developed by scientists from a European Union research project, the robot should eventually also be able to hear, see, express emotions and, most importantly, speak.
"The robot is able to synthesize voices and to understand words," Goncalo S Martins, an electrical engineer from the University of Coimbra, told Euronews. "From there, we are able to build dialogs adapted to what the user is saying at the time [of the conversation]."
The robots are connected to the Cloud to process information. Researchers say the technical challenges are huge because expectations for the robots are high.
"Our vision is that eventually the robot will be part of a kind of ´smart home´ environment for the users. The robot has sensors that could check temperatures, if the person has left the fridge door open, or the oven switched on, for instance," added Martins. "So far robots are not able to measure that for themselves, or they need to be close by to monitor these factors. We aim to do this remotely, which is why the robot is equipped with many different sensors."
Further experiments in retirement homes are underway.
Researchers are working on ways to use robots as links between the elderly and family, friends and caregivers.
"I think in the future these robots could be useful tools. They could for instance provide interactive games that could stimulate the cognitive and communication processes of elderly people," explained Ana Santos, a caregiver at Caritas de Coimbra. "Robots could allow them to engage in conversation, which is needed because these people live alone at home, and they speak less and less."
"I live alone at home, so this robot could eventually be helpful for me in various aspects," Andre Antunes said. "The robot could help me remember when to take my medication. That's important to me."
Now researchers are looking ahead at ways to bring their technology closer to the market.
"If the economic (health) agents are convinced that this technology can actually help to address the challenges [in Europe], then that will create a market that will automatically feed the development of these technologies," said Jorge Dias, Project Coordinator GrowMeUp Project.
Researchers conclude that whatever the cost, the goal of supporting and encourage older people to stay active and independent for longer, is worth pursuing.