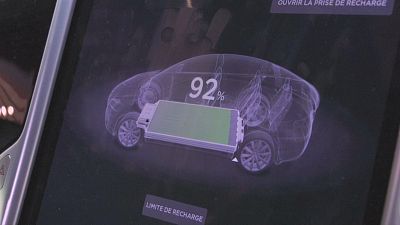 It was all about electric car prototypes at this year's Paris Motor Show.
While falling battery costs are making plug-in vehicles more attractive, pioneers of the current generation of battery-powered cars, such as Tesla and Renault-Nissan, are still reeling from a series of scandals and having to work harder to defend their lead.
Keen to turn the page after its exposure as an emissions test cheat, German carmaker Volkswagen showcased its new electric vehicle plans at the Paris Motor Show – including its futuristic ID concept car.
"Diesel is going to be a concept that will continue to evolve and develop for the years to come around the globe. There are a lot of markets that actually live on diesel, to have a fuel efficient drive for the future. Petrol is another concept that will evolve into the future. But again, electric, we believe, is going to be the centre pole of change in the future. And that will allow us to really change, not only our technology, but the concept of life with our customers," says Jürgen Stackmann, Volkswagen's global head of sales and marketing.
Other car makers are following suit with models ready to hit the road such as Opel's Ampera-e which should arrive in Europe next spring.
But scarce charging points, a driving range limited to around 160 kilometres and cheap fossil fuel continue to stifle mass-market demand. To try to fill the range gap, Renault has unveiled a longer-range Zoe LR, with an upgraded battery that can power it almost as far as its larger GM rival, set to go on sale almost immediately.
Despite ongoing hurdles, the market for electric cars is bound to keep growing, according to experts.
"As time's gone on, as more and more people are investing in this, they're realising that they're cheaper to run, sometimes they're cheaper to buy – they can be with government grants – and they can be a viable source of transport. And with the focus on the environment and the economy, it's becoming more and more important to brands to actually bring something out that sits in that market," says Alex Goy, senior editor at the Roadshow.com.
Meanwhile, Tesla stormed the premium market with its Model S sports car, tallying about 130,000 sales since its launch.
Its success proved that consumers are prepared to pay a high price for an electric vehicle that can exceed 400 kilometres on a single charge. But that kind of range is about to be matched by mass-market vehicle brands at much lower prices. So Tesla, along with other car makers, is now marketing heavily on the supposed versatility of its charging stations.
"Our super-fast charging network allows for long distance travel in a fully electric vehicle. So we are proposing much more than just cars, in fact, we're proposing a whole ecosystem," says Charles Delaville, head of public relations for Tesla France.
However, recharging a battery still takes significantly longer than filling a gas tank, limiting where you can drive, according to some critics. So, along with brand new electric models, Paris is still also displaying more traditional combustion cars.
"There will always be a space for a combustion engine," says Alex Goy. "Whether or not it's brand-spanking new cars, or whether or not they're older ones, classics. Some of the cars that are around now may be seen as classic cars within our lifetime, which I find really weird. But they can coexist – electric, autonomous, and combustion, manual, you know, proper cars – they can all coexist. There'll always be space for everything on the road."
According to statistics, the global sales of electric cars jumped 42% in the first quarter of this year, compared to the same period in 2015.
The Paris Motor Show runs until October 16.