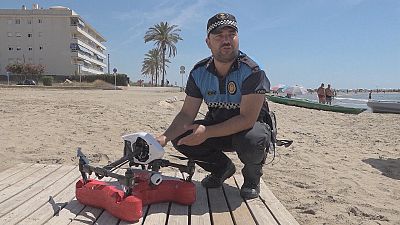 Not quite Pamela Anderson in a red swimsuit, but a new generation of life saver.
On Cunit beach in Tarragonna in Catalonia, Spain, the local Civil Protection is working with new technology in the hope of saving lives.
The technology is a specially adapted drone.
The idea came from a local policeman who thought a drone could carry a flotation device to a person in distress.
The policeman is Daniel Olmo: "During the last drill we performed, the drone flew one and a half kilometres out to sea, dropped off the float exactly where we wanted, we watched the situation until the boat arrived and then it came back."
The small flying machine uses three batteries, allowing it one hour of flying time, It can reach speeds of 70 km/h.
The drone heads directly to the person in danger and provides live images to help lifeguards and rescue operators make decisions about the rescue.
Vicente Luna, Chief of government rescue and emergencies team in Cunit:
"Now, from the very moment that any lifeguard warns us of any incident, the drone takes off immediately and goes to the point of the emergency; from then on, we can make an informed decision because we really know from minute one what the situation is. So that's how I came to think that this was a good project, a good idea, and that we needed to make it work."
The lifeguard drone now has the full backing of government rescue and teams in the area.
Cunit is the first village in the country to permanently adopt a surveillance scheme using the drone.