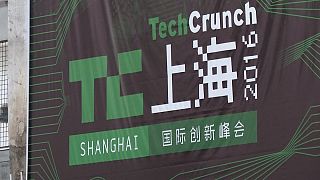 Shanghai has hosted the TechCrunch fair, which gathers hi-tech developers, engineers and designers.
The Chinese event is an opportunity to look at the future of technological applications in different fields, such as logistics, e-commerce, robotics, drones, housing etc, and the latest innovations proposed by start-ups
The growing dissatisfaction among Chinese people over the quality of the air, for instance, was the inspiration for a wearable air purifier.
"I think everyone needs this in China. Because air pollution is very terrible. It can clean the
air around your breathing area. It's one cubic metre. It can emit ions into the air and the ions will capture the particles in the air, combining them and extracting them from the atmosphere," says Operations Manager for CoClean Eric Ma.
TechCrunch Shanghai 2016 has included a startup alley featuring over 150 young companies.
A small Korean company issued from an incubator of young startups has released a brand new interconnected tape measure, able to work automatically on all kinds of surfaces and which sends data to a smartphone via a dedicated app.
"Normally to check the length of something we use just a ruler. You can use three settings to check or measure with string mode, wheel mode, and remote with a laser," says Future Play's Wongyu Lee.
If you want to make it easier to learn how to play music, there is a smart guitar which could help. Watch the leds on the neck of the guitar and once you have connected the corresponding app you can start learning.