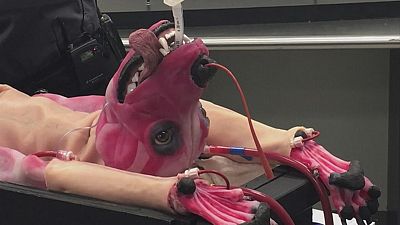 A Florida-based company has developed a synthetic dog that veterinary students can operate on instead of using real animals.
Alberta the dog is hairless and looks a bit Halloween-like, but she has realistic organs, a heartbeat, lungs that inflate, and she bleeds when you cut into her flesh.
This training dummy mimics real responses and can even be programmed to display certain symptoms or diseases.
It costs around 25,000 euros but it can be operated on up to 40 times, given its body parts can be repaired.
"It's basically a big 3D jigsaw puzzle," said Christopher Sakezles, founder of SynDaver Labs.
"Its build, bones and muscles and organs, veins, arteries, are all separate. So if any particular part of it is cut on – like you do when you perform surgery – all you have to do is replace that one part."
This new synthetic dog breathes, bleeds, and dies for veterinary students. Creepy cool. https://t.co/lQJ8iAJfavpic.twitter.com/dFbD6G5mnv

— Science Channel (@ScienceChannel) June 6, 2016
Scary-looking synthetic dog provides vets with body for surgical practice https://t.co/7V58gp8Z1hpic.twitter.com/kGJs11ET3k

— Chicago Tribune (@chicagotribune) June 2, 2016
SynDaver Labs also makes synthetic human cadavers. It says its new synthetic dog could eliminate the need for vet schools to sacrifice real animals: many have stopped using live dogs for surgical training but they still typically use euthanised shelter animals.
"Animal cadavers are bad not just because they were once live animals, but because once the tissues are frozen and or preserved, they're not the same anymore, so they don't feel the same and they don't perform the same. And this product is going to give them more of a lifelike experience with the tissue," Sakezles said.
The developers argue the switch could save thousands of dogs' lives and pave the way to the end of animal testing.
For now the company is betting on crowdfunding to get its synthetic dog into vet schools. If it's a success, it already has plans for the next product: a cat.
SynDaver Synthetic Canine Crowdfunding Campaign from Judge PR on Vimeo.