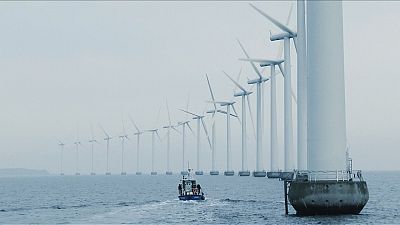 A pioneer in the production of wind power, Denmark draws more than 40 percent of its energy from turbines, and the aim is to reach 50% by 2020.
But the harsh offshore environment and heavy rain causes the blades to erode, leading to a significant reduction in efficiency. Researchers in the city of Kolding have been working on an innovative coating system.
"Look at this, this is an aluminium sample completely destroyed by rain droplets," says Michael Drachmann Haag, lead engineer at the LM Wind Power Technology Centre. "This has been done by our simulated weather conditions here in this test centre, where we test materials and processes for new materials going onto wind turbine blades. What we have done recently is we've developed a coating material instead, and when tested in our rain and ocean simulator, we've actually provided a five times improvement."
As part of the European project Windtrust, aimed at reducing the cost of wind energy generation by improving the reliability of the turbines' key components, experts are testing new materials like polyurethane coating to fight the effects of erosion.
"The newly developed materials and technologies for erosion can really help bring down maintenance costs. And maintenance cost is an essential issue when you're talking about wind energy offshore because of the inaccessibility of the turbines," explains Jens Ulrich Laursen, project manager at LM Wind Power.
The European Wind Energy Association estimates that turbines will provide between 14 and 17% of the EU's electricity by 2020":https://en.wikipedia.org/wiki/Wind_power_in_the_European_Union, avoiding more than 300 million tonnes of CO2 production a year and saving Europe €28 billion annually in fuel costs.