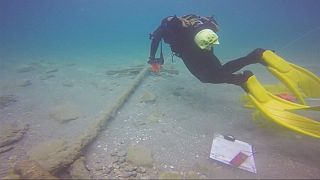 Archaeologists in Israel have recovered bronze statues and thousands of coins from a merchant ship that sank off the Mediterranean coast some 1,600 years ago during the late Roman period.
The vessel was probably hit by a storm as it entered the harbour and drifted before striking rocks and the sea wall.
The Israel Antiquities Authority (IAA) said two amateur divers had made the discovery several weeks ago in the ancient harbour of Caesarea in the eastern Mediterranean.
Successive dives recovered a haul including a bronze lamp depicting the image of sun god Sol, a figure of moon goddess Luna, fragments of life-size bronze cast statues as well as two lumps of thousands of coins.
The range of items recovered reflects a "period of economic and commercial stability" in the late Roman Empire. The sand-protected statues were in "an amazing state" of preservation.
The sea certainly still has yet more mysteries and hidden treasure for us to discover.
Two amateurs divers have discovered a trove of Roman-era treasures off the coast of Israel https://t.co/Qk8N0iMiuP

— Cool Hunting (@coolhunting) May 18, 2016