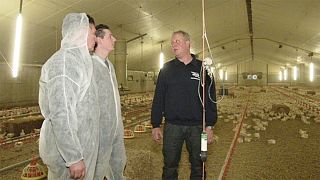 Humans have long been under CCTV surveillance, but now chickens and pigs are being watched too – by big farmer technology!
Cameras and microphones help me detect in real time when the animals are stressed for whatever reason
Researchers have set up cameras, sensors and microphones at some 20 experimental smart farms all over Europe – to track animal movements.
"They're not just part of a security system. European researchers say they've developed and installed the devices to increase the wellbeing of animals, as well as the farm's productivity," reported euronews'
Julián López Gómez from a farm in Kessel, in The Netherlands.
Chicken cams
Around 20-thousand chickens are under close surveillance on the farm in Kessel, their every move tracked by cameras and microphones.
"Cameras and microphones help me detect in real time when the animals are stressed for whatever reason," explained farmer Twan Colberts.
"So I can find solutions faster and in more efficient ways, without me being constantly here, checking each animal."
Animal scientists, bio-engineers and vets are part of this European research project
Fast, chaotic animal movements could indicate temperature, feeding or drinking problems for instance.
"If a feeding line would block, like this feeding line going along here on this picture, then you would see all the birds moving from that feeding line and going to another," said Luc Rooijakkers, Project Manager, Fancom, as he showed us some images.
"Now for instance we can see that the birds are moving really fast. What's happening we don't know. We are now very close to the door of the (hen) house, so maybe they just hear us talking a little bit too much and they are scaring away."
Reliable data
Some of the platform algorithms and computer tools were partially developed at the University of Leuven, in cooperation with another 20 partners.
Researchers say they can identify real problems in 95 out of every 100 alarms raised.
"The distribution of animals varies depending on factors like climate, temperature, quality of the soil etcetera," explained Alberto Pena Fernandez, a bioscientist and research assistant at the University of Leuven.
"We have data about what, in a given farm, should be the average levels for all those factors which – when combined – affect animal behaviour.
"So when we make our predictions, we can discriminate quite accurately, and identify with some precision, the real problem for animals on the farm."
Listening in for pig coughs
In Meijel in The Netherlands, pigs are being monitored for coughing – a possible sign of a highly infectious respiratory disease.
Algorithms isolate the sounds in the barn.
Preliminary results show that the PCM to be a great tool to monitor the intensity of coughing. http://t.co/Q1EysyL8kfpic.twitter.com/BCJUs9IgAB

— EU-

PLF

(@EUPLF) 27 March 2015
"My average visit time to a shed like this is around 10 minutes, spending up to two or three seconds checking each animal," explained farmer John Verhoijsen.
"With the cough monitoring system, their health is checked 24 hours a day, seven days a week. So I can be more reactive in eventually limiting the spread of disease."
Read about the potential of the visualisation tool being developed by the EU-PLF project. https://t.co/XRUqgwPu3xpic.twitter.com/OZdL9ypjiY

— EU-

PLF

(@EUPLF) 22 April 2016
Other cameras tested at the farm give data about the weight of animals before and after being fed.
Information researchers hope will eventually help farmers to increase the safety and traceability of products.
.
"One of the big next steps is to bring internet to all farms in Europe. We are still far away from that," commented Daniel Berckmans, a bioscience engineer and professor at the University of Leuven and EU-PLF project coordinator.
"So the farmer of the future will not only sell meat or animals, he will sell data. And that will create new information for all people in the food chain and the consumer."
Around 20 experimental farms have been kitted out with these systems and six smart precision livestock products have so far been developed.